Wet Leg Are Sharp and Funny on Self-Titled Debut LP
Duo's first album is bawdy, smart and highly entertaining
Music
Reviews
Wet Leg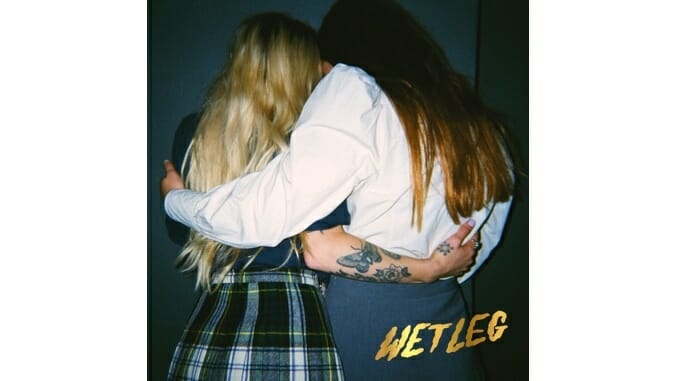 If Wet Leg's only achievement had been demonstrating the correct pronunciation of a popular seating option with their 2021 single "Chaise Longue," that would have been enough. The song is droll and hooky, a blast of anarchic energy packed into three-ish minutes of deadpan vocals and careening guitars. Turns out that's not their only achievement. In fact, "Chaise Longue" is basically a setup for Wet Leg's self-titled first album, a gleefully bawdy, often adrenalizing exploration of ennui, lust and catharsis.
It can be tempting to think (or fear) that a band that debuts with a funny song is destined to be a gimmick, but Wet Leg principles Rhian Teasdale and Hester Chambers dispel any such concern with a display of range and depth on these 12 songs. They do angular indie rock with precise, metronomic vocals on "Angelica," there's a dance-y beat pushing a bright melody on "Ur Mom" as buzzsaw guitars come and go, and "Supermarket" winds around on shambling guitars and loose-limbed backing vocals, like some slacker-rock anthem from people who aren't really slackers at all.
Whatever else they are, Teasdale and Chambers are funny, in a dry, one-raised-eyebrow kind of way: while doom-scrolling on a smartphone, say, over lurching fuzzed-out guitars on "Oh No." "I checked my phone, and now I'm inside it," Teasdale intones, her dread balanced with lethargy. Yet for all their deadpan wit, they also have heart. It's evident on "Loving You," a mournful tune where Teasdale sings in her upper range over a tap-tap-tapping drum part and cascades of wordless backing vocals as she addresses an ex with a blend of heartache and disregard. "You say you think about me in the midnight hour / I know that you're just rubbing one out up in the shower," she sings.
More often, the humor comes wrapped in an upbeat package, in keeping with what Teasdale has said is a desire "to be goofy and a little bit rude. We want to write songs that people can dance to." "Wet Dream" hits the trifecta: With a big, shout-along chorus, the song surges ahead on a looping bassline and propulsive beat. Teasdale takes as her starting point an ex who had a habit of texting her when she appeared in his dreams, and she lets her imagination run wild with the details: He's exposing himself on the side of the road, climbing onto the hood of her car, licking the windshield. "It's enough to make a girl blush," she sings, after demanding to know a few lines earlier, "What makes you think you're good enough to think about me when you're touching yourself?"
Their songwriting is tight, their lyrics are brazen, smart and amusing, and they are at ease shifting through various indie styles. What really makes Wet Leg stand out, though, is that Teasdale and Chambers are so clearly having fun. Friends since they met as students at Isle of Wight College in the U.K. a decade ago, the duo often sound on Wet Leg as though their songs are intended primarily to entertain themselves, and each other. The rest of us are lucky to be along for the ride.
---
Eric R. Danton has been contributing to Paste since 2013, and writing about music and pop culture for longer than he cares to admit. Follow him on Twitter or visit his website.