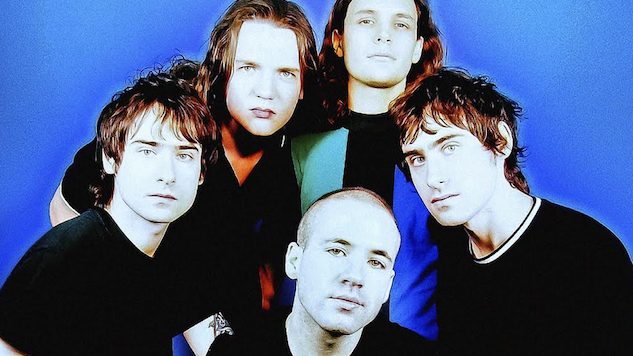 Daily Dose is your daily source for the song you absolutely, positively need to hear every day. Curated by the Paste Music Team.
White Reaper, the raucous garage-punk band from Louisville, Ky., are back with an equally vivacious new single, "Might Be Right." The Kentucky rockers have also announced that they are now signed to Elektra Records.
Vocalist/guitarist Tony Esposito recalls in a statement, "I remember seeing the big Elektra 'E' on the back of so many of my favorite Cars, Doors, Queen and Metallica records. I still can't believe it." Drummer Nick Wilkerson adds, "It's awesome to be a part of a label with such rich history."
In White Reaper's new track, Esposito's amplified vocals coincide with Nick Wilkerson's turbulent beats, Sam Wilkerson's pounding bass lines, Ryan Hater's lively keyboard chords and Hunter Thompson's dynamic electric guitar shreds. Elements of nu-disco and pop intermingle with the band's signature garage-punk sound.
The official music video depicts each member performing with their respective instrument, Fender guitars, a C&C drum kit and Korg keyboard. A neon sign glistens, showcasing the White Reaper logo as rotating spotlights swirl around the band. Primary-colored backdrops and various split screen visuals are utilized throughout the video's almost four minutes.
White Reaper's latest single is their first new music release in two years. The group's most recent LP, 2017's The World's Best American Band, reached critical acclaim, including a spot on Paste's list of that year's best albums, and featured highly streamed tracks like "Judy French," "Daisies," "Eagle Beach" and its title track. 2015's White Reaper Does It Again spawned fan-favorites like "Make Me Wanna Die" and "Sheila," as they crafted their now well-renowned sound.
White Reaper recently opened for alternative giants The Killers, and are soon to embark on an extensive North American tour, adding more dates in the fall. Their "You Deserve Love" tour will begin in St. Louis at the Firebird on Oct. 3 and continue until Nov. 10 at the A&R Music Bar in Columbus, Ohio.
Until then, White Reaper will headline their own U.S. shows in June. They will also play at notable festivals such as the Ohana Festival on the same day as The Strokes, and the U.K.'s Reading & Leeds when Foo Fighters are set to headline. Later, they will perform at Bourbon & Beyond and Louder Than Life, both taking place in their hometown of Louisville in September.
Watch White Reaper's "Might Be Right" video (dir. Daniel Ryan) below and find their tour itinerary further down.
White Reaper Tour Dates:
June
13 – Toledo, Ohio @ Ottawa Tavern Inc +
14 – Lansing, Mich. @ The Loft +
15 – Lakewood, Ohio @ Mahall's +
16 – Buffalo, N.Y. @ Rec Room +
18 – Lancaster, Pa. @ Kaleidoscope +
19 – Asbury Park, N.J. @ Wonder Bar +
21 – Amityville, N.Y. @ Amityville Music Hall +
22 – Philadelphia, Pa. @ Goose Island Takeover @
23 – Baltimore, Md. @ Ottobar +
25 – Raleigh, N.C. @ Kings +
26 – Asheville, N.C. @ Mothlight Club +
29 – Louisville, Ky. @ Headliners Music Hall +
August
09 – Sedalia, Mo. @ Missouri State Fair %
23 – Leeds, U.K. @ Leeds Music Festival
25 – Reading, U.K. @ Reading Music Festival
September
13-15 – Chicago, Ill. @ Riot Fest
22 – Louisville, Ky. @ Bourbon & Beyond Festival
27 – Dana Point, Calif. @ Ohana Music Festival
29 – Louisville, Ky. @ Louder than Life Festival
October
03 – St. Louis, Mo. @The Firebird ~*
04 – Des Moines, Iowa @ Vaudeville Mews ~*
05 – St. Paul, Minn. @ Amsterdam Bar & Grill ~*
07 – Denver, Colo. @ Larimer Lounge ~
10 – Seattle, Wash. @ The Crocodile ~
11 – Vancouver, B.C. @ The Biltmore Ballroom ~
13 – Portland, Ore. @ Doug Fir Lounge ~*
15 – Sacramento, Calif. @ Holy Diver ~^
16 – Berkeley, Calif. @ Cornerstone Berkeley ~^
17 – Felton, Calif. @ Felton Music Hall ~^
20 – Phoenix, Ariz. @ Valley Bar ^
22 – Austin, Texas @ Barracuda ^
23 – Dallas, Texas @ Deep Ellum Art Co ^
25 – Huntsville, Ala. @ Mercantile &#
26 – Gainesville, Fla. @ High Dive &#
27 – Atlanta, Ga. @ Masquerade (Hell) &#
28 – Charlotte, N.C. @ Amo's Southend &#
29 – Chattanooga, Tenn. @ Songbirds South #
31 – Washington, D.C. @ U Street #
November
02 – Cambridge, Mass. @ The Sinclair &#
03 – Hamden, Conn. @ The Space &#
05 – New York, N.Y. @ Bowery Ballroom &#
07 – Albany, N.Y. @ The Hollow #
08 – Toronto, Ont. @ Horseshoe Tavern &#
09 – Detroit, Mich. @ El Club &#
10 – Columbus, Ohio @ A&R Music Bar &#
(+ – Twen)
(@ – Sheer Mag & Thin Lips)
(% – The Struts)
(~ – The Dirty Nil)
(& – The Nude Party)
(* – The Paranoyds)
(^ – Criminal Hygiene)
(# – Wombo)