Everything We Know about Whitney's New Album So Far
The band's debut, Light Upon the Lake, came out in 2016
Photo by Daniel Topete
Music
Features
Whitney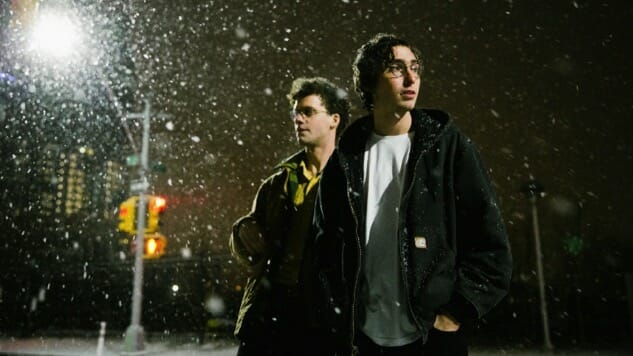 "Everything We Know about … " is Paste's series of deep dives into the forthcoming projects we're most excited about. Explore them all here.
Self-described Chicago "country-soul" band Whitney's debut album, 2016's Light Upon the Lake, was a surprise critical and commercial hit, one that helped put the city's vibrant, bustling indie-rock scene on the national map. Core songwriting duo Julien Ehrlich and Max Kakacek's layered instrumental harmonies and soulful pop frameworks were particular sticking points for fans of the group. But in the more than two years since the release of their debut, the band has been mostly quiet on all new music fronts. They've hinted that LP2 is on the way, but let's take a deeper look into just what we can expect moving forward.
---
What Will It Sound Like?
Look through the band's social media pages and you'll find scattered references to their progress on the second album. They're mostly pretty mum on the subject of actual sounds, aside from an October tweet saying that the album "is starting to sound fucking insane," which is enticing.
this album is starting to sound fucking insane. this is a hype tweet

— Whitney (@whitneytheband) October 21, 2018
Luckily, this writer had the chance to catch Ehrlich and Kakacek perform a stripped-down set at the 2018 Pygmalion Festival in Champaign, Ill., in late September of this year. Scattered in amongst the "Golden Days" and "No Woman"'s were four new songs. The finer details have escaped me, and while the songs were mostly skeletal sketches, a distinct note I took during their performance was "crying at the hoedown," if that gives you a general idea. In addition, the band's only crop of new music since Light Upon the Lake has been a smattering of covers: Dolly Parton's "Gonna Hurry (As Slow as I Can)" Allen Toussaint's "Southern Nights," and "You've Got a Woman" by Dutch funk/disco group Lion were all released in 2017. The breadth of influence on display between those three songs may be a good way to mark the work to come.
Where Have They Been?
It's true: There's no rushing perfection. During the Pygmalion performance, the pair mentioned that they had been writing songs at a sort of cabin retreat in the woods. Given the storied history of that approach in indie-rock (think Bon Iver's debut) and the almost pastoral quality of the band's songwriting, it's hard to blame them for taking the time to get away and make it right.
Of course, they can't just drop off the map entirely. Whitney have stayed pretty consistently busy over the past two years, playing countless Chicago shows, festivals across the country, and even a supporting slot on tour with The Decemberists. Their overall exhaustion from touring has been obvious at some of their more recent shows, as they poke fun at the people who came only to hear "Golden Days" and "No Woman." Again, it's hard to blame them—they probably want to get back into the studio (or cabin) and get things cracking.
When Will It Be Out?
It's been the subject of much online discourse: "Whitney LP2 When?" seems to be the rallying cry of the masses, infecting even crowds at Kevin Morby shows (see below). There's no real timeframe to this, unfortunately, and for now, your guess is as good as ours.
Tonight at my show in Melbourne I asked:

Anybody got any questions ?

And a man yelled

Yes!
When is the new Whitney album?

And I replied:

….I don't fuckin know! @whitneytheband

— Kevin Morby (@kevinmorby) November 29, 2018
In May of this year, the band gave an update on their Twitter, stating that Julien was "getting over a 4-5 mo long sinus infection," that presumably put a halt to all things musical.
Spring Update: getting over a 4-5 mo long sinus infection. steroids feel weird. max n i in the middle of our 7th song for LP2. starting to realize the whole thing. beautiful last couple days here in chi. love everyone. fuck trump. hope kanye's ok. putting the phone down now

— Whitney (@whitneytheband) May 10, 2018
Since then, the band has presumably been working on the album in between concert appearances. That fact, combined with the skeletal nature of the songs at Pygmalion, some of which had mere scratch lyrics, forecasts a spring 2019 drop at the earliest, and possibly later. Guess we'll just have to wait and see.
The Latest
Whitney revealed via Twitter on Feb. 16 that their new album is "100% recorded."
This is just a dumb joke but in all seriousness the record is 100% recorded with a title that we took seriously https://t.co/lA9jWZAVja

— Whitney (@whitneytheband) February 16, 2019
---
Keep an eye on this space for more info on Whitney's LP2 as we have it.