Wolf Parade Share Electrifying New Single, "Against the Day"
Photo by Pamela Evelyn & Joseph Yarmush
Music
News
Wolf Parade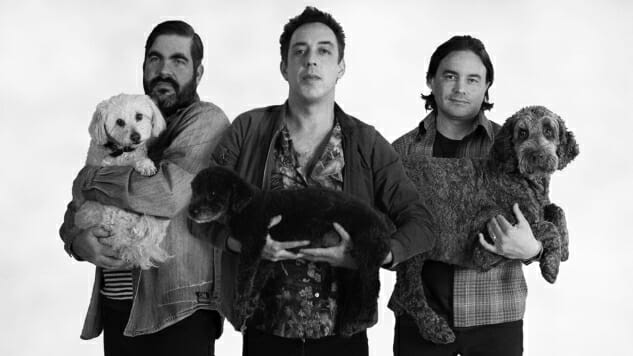 Montreal indie-rock beloveds Wolf Parade have released their first new song since 2017's Cry Cry Cry, a synth-driven anthem titled "Against the Day." The grooving song reckons with romance in the wake of a societal breakdown, asking if love can withstand the end of time.
Compared to Wolf Parade's catalog of music, "Against the Day" marks a shift in the band's focus to a synthetic, techno-driven approach. The track opens with a deep rhythmic pulse leading to a catchy synth melody that Dan Boeckner mimics in the verse. He reflects on where his life with a lover stands following an unspecified world-ending event. Boeckner shows that even in the apocalypse, their love can continue, singing, "All is gone now / Seconds fade but our hearts will still remain."
The accompanying video for the song gives context to the broader theme on Wolf Parade's minds, opening with an animated scroll of text on a television screen set to an 8-bit rendition of the song. The text reads:
The twenty-first century is ending and so is global civilization. The landlords have abandoned the ruined cities to their fate but amidst the sub-tropical rubble, life still flourishes.
The intro then goes on to describe the different small societies that have begun forming with civilization's collapse, including the super-rich who live in luxury and the anarcho-communistic self-governments of the people. As a heady maxim, the scroll concludes with the line, "Coordinated resistance is the only answer to the depredations of the plutarchy."
While "Against the Day" is clearly a love song, the broader political scope of the video could be hinting at a larger project from which the single is just one perspective. You can listen to "Against the Day" below and check out Wolf Parade's March European tour dates further down.
Wolf Parade 2020 Tour Dates:
March
02 – Utrecht, Netherlands @ Tivoli Vredenburg
03 – Hamburg, Germany @ Knust
04 – Berlin, Germany @ Gretchen
06 – Cologne, Germany @ Club Volta
07 – Zurich, Switzerland @ Bogen F
08 – Luxembourg, Luxembourg @ Rotondes
09 – Paris, France @ Petit Bain
10 – Brussels, Belgium @ Orangerie @ Botanique
11 – London, U.K. @ The Dome
13 – Bristol, U.K. @ Thekla
14 – Manchester, U.K. @ YES (Pink Room)
15 – Dublin, Ireland @ The Button Factory