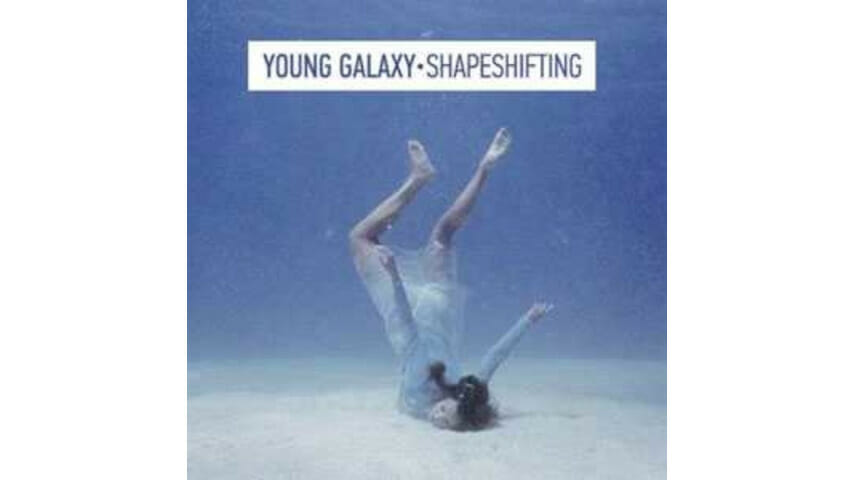 Montreal's Young Galaxy are making the kind of emotive, grandiose electro-rock that feels both like a throwback and the future. In many ways, the band's new album, Shapeshifting, has a lot more in common with mid-'90s trip-hop and downtempo than with any current musical trend. But there's a sincerity and a musicality cribbed from contemporary post-rock that piques one's interest even when the atmosphere gets a bit overwrought. And it does, occasionally.
To wit, the album's first two songs are prime examples. "The Angels Are Surely Weeping," a slightly cringe-inducing title, features guitarist Stephen Ramsay on lead vocals. "We were epitomes of flesh and blood" he sings over a programmed, slowly bouncing synth beat, affirming that the band does indeed aspire to bring warmth to its New Order-inspired song construction. "Blown Minded," on the other hand, is unabashed '80s synth rock, from the Tone Loc-style snare breakdowns to keyboardist Catherine McCandless's confident, lower range vocals.
Another reference point that cannot be overlooked is Swedish duo The Knife, whose thumbprints appear on the album now and then. The relatively straight-ahead techno-lite beat of "For Dear Life," and especially the morose "Cover Your Tracks" immediately bring this reference to mind. Listen to the latter song and "Heartbeats" back-to-back and the similarity can't escape you. Perhaps this is due to fellow Swede Daniel Lissvik's production, as he tinkered with these tracks for months after the band recorded them at their home studio.
More likely, it's the mark of a band observing, absorbing, and incorporating the sounds that make them happy. For Young Galaxy, this means blending willowy guitar lines with bubbly synth beats while keeping the atmosphere appropriately moody. Shapeshifting is an album that grows on you, as repeated listens reveal the nooks and crannies of these charming elecro-pop tunes. Given the glut of new releases, large and small, from studio to bedroom, that's saying a lot.