NBA Players Are a Relatively New Addition to the Olympics
Before the Dream Team, there were corporate leagues and AAU
Photos courtesy Getty Images
Olympics
Features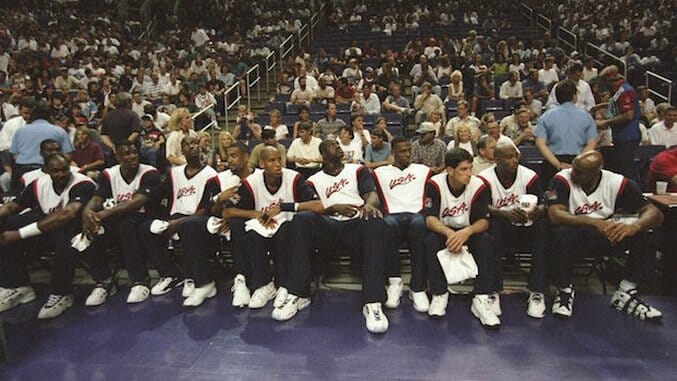 LeBron James. Steph Curry. James Harden. Chris Paul. Kawhi Leonard. All these NBA mega-stars have announced that they won't play for Team USA at the 2016 Rio Olympics. While the U.S., Spain, Brazil, France and Canada are still expected to send formidable teams laden with NBA stars and professional players to Rio, it wasn't all that long ago that Olympic basketball featured no professional players.
Basketball debuted at the 1904 Summer Olympics as a demonstration sport, only 13 years after the game was invented by Canadian YMCA director Dr. James Naismith in Springfield, Mass.  Three decades later, the International Basketball Federation (FIBA) was founded in Geneva, Switzerland—by 1936, it was offered as an official medal sport in Berlin. (Women's teams began competing in the 1976 Montreal Games.) From 1936-1992, the U.S. men's basketball rosters featured a combination of collegiate stars, armed services ballplayers, and the best from the nation's industrial leagues, corporate-sponsored ball clubs which belonged to an organization known as the Amateur Athletic Union.
While the NBA was a fledgling operation for most of the 1950's, AAU league players held 9-to-5 jobs with their sponsor corporations. From 1948 through 1972, the latter year the first time the U.S. men lost a basketball game, the team generally featured an average of five players 26 years of age. Most such players were invited to trials based on their performance for AAU clubs such as the Phillips 66'ers, Peoria Caterpillars, Akron Winged Foot Goodyears, Denver Truckers, or armed services teams. Some of these men, including Burdie Haldorson and Lester Kelley, played in two or more separate Olympics. In '68, college All-Americans Calvin Murphy and Pete Maravich, who went on to NBA All-Star careers, and averaged 40 points per game as collegians, were cut from a US squad that featured five men older than they. The premier U.S. collegian in '68, Lew Alcindor (today Kareem Abdul-Jabbar) passed up tryouts to work for a Harlem youth program instead. All-Americans Wes Unseld of Louisville, and Elvin Hayes of Houston didn't go out for the team, either.
In the '72 Munich Games, the USA lost its first men's basketball game, a controversial gold medal match vs. the USSR, during which timekeepers elected to start the game anew twice, after the U.S. had won in regulation. The Soviets then preceded to win 50-49. The US players never accepted the silver medals.
At the '76 Montreal Games, the U.S. faced Puerto Rico. The game pitted the Yank backcourt of Indiana U.'s Quinn Buckner and North Carolina's Phil Ford, against Marquette's Butch Lee, a Puerto Rican native who played high school ball in Harlem, and a dynamic jumpshooter from the island's professional league named Neftali Rivera. Lee exploded for 36 points, and Rivera added 32, as the U.S. edged the Boricuans 95-94, to remain undefeated since 1936. In 1988, the U.S. finished with a bronze medal at the Seoul Games, having lost to the Arvydas Sabonis-led Soviet Union in the semi-finals. In women's basketball, the U.S. has won gold each Olympics since 1980, a year President Carter boycotted the Moscow Games by not sending U.S. athletes, in protest of Soviet military presence in Afghanistan.
After the 1972 Olympics, the first one where U.S. men failed to win gold, no armed services or AAU players made a USA roster. By the late 1960's, industrial teams were no longer as strong or as popular, because in 1967, college stars had the options of playing in a new pro league, the ABA, as well as the NBA. The appeal of working a day job for Phillips or Goodyear, with basketball participation added to that salary and pension, was not what it had been from 1948-1968. Despite the maturity of the rosters of nations such as the USSR, Yugoslavia, Puerto Rico, all of whom had men play in multiple Olympics, which made their teams cohesive, the 1976, 1984, and 1988 U.S. men's teams were entirely made up of collegians.
In 1991, USA Basketball, starring collegians Alonzo Mourning, Jimmy Jackson and Chris Jent, was defeated by Puerto Rico in the Goodwill Games. Before the 1992 Games, USA Basketball decided since professionals such as Puerto Rico's Jose "Piculin" Ortiz and Brazil's Oscar Schmidt had played for their national and FIBA teams, the U.S. equivalent would be NBA players. FIBA Secretary General Borislav Stankovi? had advocated for years that NBA players be involved in international competition. In April 1989 when allowing NBA players came to a vote in FIBA, Russia and the USA voted "no"—Russia had few pro players to match the Americans, while USA didn't foresee the potential marketing bonanza. Still, the change was approved.
Thus the Dream Team was born. It included "Magic" Johnson, Michael Jordan, John Stockton, Charles Barkley, Pat Ewing and Karl Malone. A February 18, 1991 Sports Illustrated cover coined their nickname, and U.S. brands and products rushed to design ad campaigns featuring the squad. That team ran through the Barcelona competition with an average margin of victory of nearly 44 points per game. Opposing players even used camcorders to film the Dreamers after the games, and some requested their autographs. However, a rising tide lifts all boats, and interaction with the world's best, helped other nations improve their training methods, recruiting, tactics, and even the hiring of U.S. coaches such as Mike D'Antoni, David Blatt and Donnie Nelson for the international squads or pro leagues. As a result, in 2004 Argentina's men won the gold at the Athens Games. Recent men's Olympic basketball is far more competitive than it was in 1992. In 2008 and 2012, Spain lost gold medal games to the USA by 118-107, and 107-100. Today, every men's team in the Olympic field realistically dreams of gold.
Bijan C. Bayne is a cultural critic and the author of Elgin Baylor: The Man Changed Basketball. He may be found on Twitter @bijancbayne