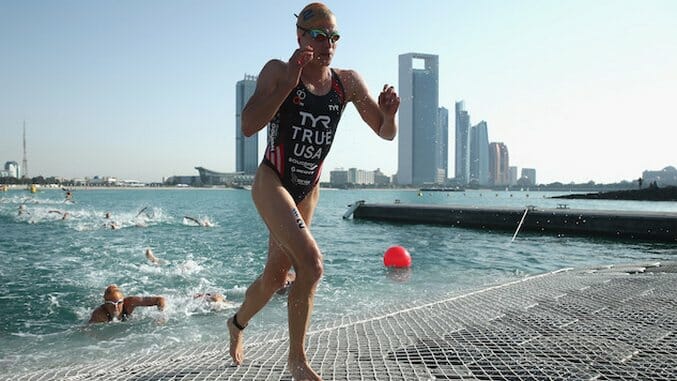 In this recurring feature, Paste writers will be interviewing Olympic athletes in the lead up to the Rio 2016 Summer Games.
Olympic triathlete Sarah True has a talented family. Her sister, Lauren Groff, was nominated for a National Book Award last year for her novel Fates and Furies. Her husband, Ben True, was a silver medalist at the World Cross Country Championships—and is hoping to make the Rio team himself. Though Sarah isn't too shabby herself. The New Englander came in 4th at the London Games and finished last year ranked third in the world.
At Rio, she'll be competing in the women's triathlon—a 1500 meter swim, 24 mile bike ride, and 10 kilometer run—where she's a medal favorite. But she'll have some tough competition, especially from her two American teammates, Gwen Jorgensen and Katie Zaferes, who are ranked first and fifth in the world currently. (Yep. The U.S. women are very good.)
Before she heads to Brazil, True talked to Paste about training to put your shoes on quickly, which of the sisters gets recognized more frequently, and what she's most looking forward to at the Rio 2016 Games.
What is your favorite leg in triathlon?
The run, because the finish line is at the end of it. As much as I love triathlon, it's nice to race knowing that there's an end to the physical discomfort. 
In a race, transitioning between each of the sports is very important. Podium spots can come down to seconds. How many hours each week do you practice that?
While I tell my husband that I never tie my shoes to practice for my transitions (we wear elastic laces in our run shoes instead of stopping to tie them), the truth is that I rarely practice transition. The good part about being a veteran of the sport is that I have many transitions under my belt by now. 
When most people think triathlon, they think Ironman. Do you ever want to do an Ironman? How often do people ask you that? Is it super annoying?
What's great is there are triathlons of different lengths ranging from super sprint to ultra-Ironman. I'd definitely like to finish an Ironman in the future, even if I have to do some serious brain training to be able to mentally tackle a nine-hour race. The upside is that you get to eat a lot more snacks over the course of an Ironman than over a two-hour Olympic distance race.
It only gets annoying when I'm told that I'm not a "real triathlete" since I haven't finished an Ironman yet! 
Your sister wrote the book Fates and Furies, which was incredibly popular last year. President Obama even said it was his favorite book of the year. Which of you is more famous? Have you ever been recognized outside of a triathlon event?
My sister definitely has more widespread fame now, even if I'm a bit more recognizable in my sport. As an author, her name is widely recognized, but only the most diehard fans would know her face.
I've had a few moments, mostly in airports, where a triathlon fan will come up to me. It's a niche sport, but amateur triathletes are really supportive of the professionals.
What Olympic events are you going to go watch while in Rio (besides triathlon)?
Hopefully I'll be going to the track to watch my husband compete!
Your husband and you have very different competition schedules. How many days last year were you out of the U.S? How many of those days was he in an entirely different country from you?
I was out of the country about five months last year. Ben was mostly at home, with the exception of a few international races. I love that triathlon brings me around the world; Ben resents that he has to leave home to race. Opposites attract and my wanderlust and his homebody inclinations seem to balance out, thankfully.
Kelly O'Mara writes about sports — except football, baseball, and basketball — for places like espnW, VICE Sports, and Competitor. She also races a lot of triathlon. @kellydomara