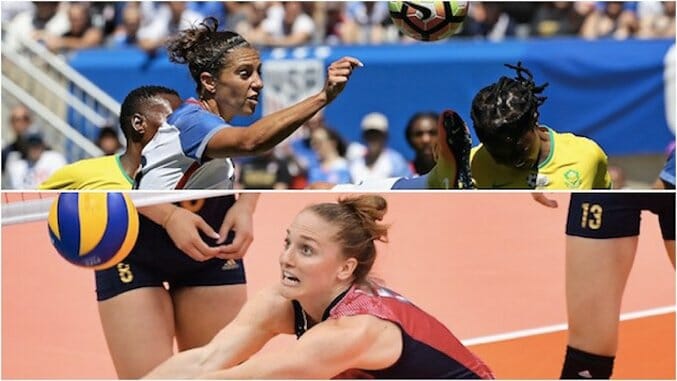 2015 was the year Carli Lloyd became famous. She still remembers the night when her Facebook message inbox starting exploding with autograph requests and congratulations from total strangers.
But the volleyball star—whose role in leading her team to gold at that year's Pan American Games netted her the Most Valuable Player award—was confused at first. Her tournament hadn't even started yet.
"I started to get all these Facebook messages congratulating me," she said. "It was talking about all these goals I scored and asked for autographs. I was like, 'What is this?' And it was then I realized they were trying to send messages to the other Carli Lloyd.'"
The other Carli Lloyd, of course, plays midfielder for the United States Women's National Team, too, but in an entirely different discipline. She, too, garnered international acclaim and success when she led the US Women's Soccer team to a 2015 World Cup title over Japan, earning the Adidas Golden Ball award for the tournament's best player.
"[Around that time] someone tagged me on Twitter," noted the soccer star, "And it was about the volleyball Carli Lloyd. I said, 'Oh wow.' I never knew there was someone with the same name as me."
It's show time! #Rio2016#olympics#usa#footballpic.twitter.com/YR4qn0niZG

— Carli Lloyd (@CarliLloyd) 3 de agosto de 2016
"Every time I pulled up Facebook, I had to answer someone, 'I'm not that Carli Lloyd,'" said the volleyball Lloyd. "It was then that I knew I had to watch. Then I realized how badass she was."
Initial confusion subsided, the two laugh about the mix up, but relish the opportunity to display the distinction.
"After a while, people started getting it straight," said Lloyd, the goal-scorer. "She was doing her thing and I was doing my thing. Now, we're making history."
It's hard to tell if they're the first two athletes with the same name competing on the same Olympic team. Surely there's a pair of John Smiths buried somewhere in the Olympic archives.
Aside from the name, an exterior shot shows little in common between Carli Lloyd and Carli Lloyd. One plays soccer, the other volleyball; 2,700 miles separate their respective high schools. The midfielder turned 34 in mid-July; the setter will celebrate her 27th birthday on day one of the Rio Olympics with a match against Puerto Rico. At the same time, the midfielder will lead her team onto the pitch against France.
The two-time Olympic gold medalist Lloyd looks the part of soccer star: muscular frame of someone who's hobby it is to work out, broad shoulders, and powerful legs. With soccer's increasing foothold on American sports fans, we know Lloyd's story. She grew up just over the Delaware River from Philadelphia in Delran Township, New Jersey. She captained Delran High School and earned Philadelphia Inquirer's player of the year honors in 1999 and 2000. She starred at Rutgers University and joined the Women's National Team when she was 23. Lloyd scored three goals in the first 16 minutes of her first World Cup final, the fastest man or woman to that hit that mark. This will be her third Olympics.
The "other" Carli Lloyd is distinctly west coast. The San Diego County, California native is tall, lean, and blonde. She, too, won multiple honors from her local paper, the San Diego Union Tribune, for her success at Fallbrook High School. Lloyd then went on to shine at the University of California-Berkeley, leading the Bears to the NCAA Division I in 2010 Women's National Championship match. She joined the national team in July of 2011. She was the best player at the 2015 Pan American Games. These are her first Olympic Games.
Off their respective playing surfaces, both Lloyds enjoy playing beach volleyball—the one that typically uses her feet claims she can hold her own.
"I'm a pretty good beach volleyball player," she told me. "I mostly just play for fun, but I know what I'm doing out there."
As for the inverse to that, "I tried out [for soccer] in 7th grade because I just wanted to run around," the volleyball Lloyd admitted. "My friends played, but I was awful. I made the team, but the coach just said, 'You're the midfielder. Just run and give it to a teammate.' He didn't want me dribbling, he didn't want me shooting, he just wanted me to pass. I still don't know how to dribble a soccer ball."
Here are some similarities they can discuss, should there be a run-in in Rio:
Both women are family-oriented. The elder Lloyd spends her down time on the golf course with her soon-to-be-husband Brian Hollins, who is an assistant golf pro at a private course. She also admitted that they're the couple seen on vacation working out while the rest of us are sipping piña coladas at 10am. The younger of the Lloyds is "down with the outdoors" and spends her off-time "with nieces and nephews" and mentioned her sister a number of times during the interview.
Though both admitted they haven't had too much time to chill out lately, they both like being near the water.
"Somewhere warm, on the beach," said the soccer player.
"I love being in the mountains and by the water," said the volleyball player, citing her family's place in Lake Havasu.
Both assert the randomness of their music playlists. Top 40 hits ranging from R&B and pop to hip hop and country populate their iTunes. Any genre is likely to come up accompanying both the free weights and the freeway.
Both are fans of the National Football League: Having grown up near Philadelphia, Lloyd pledges her allegiance to the Eagles; the San Diego native is a Chargers fan.
Both tout their regionally-specific cuisine.
"Gotta go with some good Jersey pizza," said the proud east coaster. "I stick with plain. Homemade sauce, basil, fresh mozzarella."
"My mom's homemade tacos are the best," countered SoCal.
But they can agree on one thing: dessert.
"If I'm splurging on anything, it's dessert," the soccer Lloyd said. "And it's anything: cupcakes, brownies, ice cream."
"I love chocolate," the Cal grad said. "My mom would joke with my sister and cousins that there's always room for chocolate."
The two women have never met one another, though that's surely to change when the duo hits Rio de Janeiro in a couple of days.
"I just sent out a tweet and included her, quoting an article about it, but I don't think she's on Twitter (she's not)," said the New Jersey native. "I remember Aaron [USWNT media contact] hyping it. I hope we're setting something up to meet."
The Bard's words ring true as ever: a Lloyd by any other name would smell as sweet.