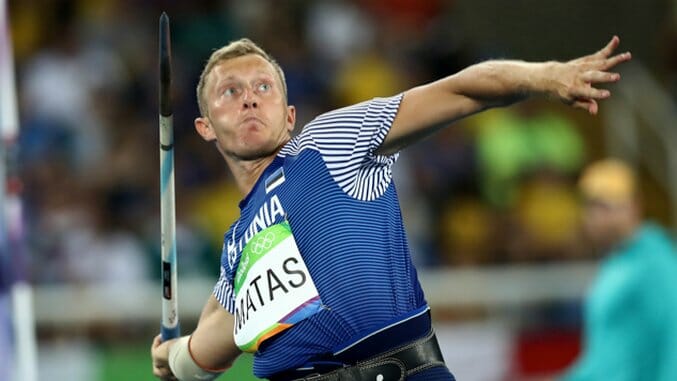 The end is near, but as Dylan Thomas once said, roughly, "do not go gently into that good night. Rage, rage against the dying of the light…by watching as many Olympic events as you can over the last four days." That wisdom is as true today as it was back then. Before your Thursday, here's what you need to know about the institution of the viewing guide:
1. Using both NBC's various TV channels and their excellent live streaming site, I will show you how to watch the Olympics with an unmatched level of obsession and fanaticism. Note that every event listed on a TV network can also be streamed live, though the opposite is not true.
2. The focus is on catching every event where a medal is at stake, regardless of sport, and every team sport match featuring America. Follow me, and you'll miss nothing.
3. Everything you see below is LIVE. We may be many things, but we are not tape-delay punks.
For a handy one-stop schedule of each event for the full two weeks, I made this spreadsheet to aid in your quest. Refer to it as needed.
Thursday
8:00 a.m. — Kayak — Men's K-2 1000m Finals — NBCSN
The difference between canoe and kayak, as far as I'm concerned, is that kayaks are paddled in mesmerizing fashion by graceful elves, and canoes are paddled by the frantic ghosts of old French fur traders. Either one is awesome.
8:15 a.m. — Canoe — Men's C-1 200m Finals — NBCSN
For some reason, I had no idea that canoeists actually stood up in their boats when paddling, with one knee down and the other leg perched up near the front of the boat. They all look like George Washington crossing the Potomac.
8:39 a.m. — Kayak — Men's K-2 200m Finals — NBCSN
i want a weird relay medley event with kayak, canoe, 8-person rowing ship, and swimming.
9:11 a.m. — Kayak — Women's K-1 500m Finals — NBCSN
11:00 a.m. — Track — Men's 400m Hurdles Finals — NBC
My observation from the first few days of track and field events is that hurdlers are crazy bad at jumping over hurdles. Some of them don't even really attempt it.
11:30 a.m. — Badminton — Women's Doubles Gold — USA
Amazingly, China is not involved in this match.
12:00 p.m. — Women's Volleyball — U.S. vs. Serbia (semifinal) — NBC
We took silver in London, and with a win over Serbia, we can guarantee at least an equal finish in Rio. I get the feeling this could be the year when the U.S. goes double gold on both the men's and women's side.
12:00 p.m — Synchronized Swimming — Team Technical Routine — Computer
There are like 32 people in the pool at once here.
12:05 p.m. — Sailing — Men's 49er — Computer
1:05 p.m. — Sailing — Women's 49er FX — Computer
2:30 p.m. — Boxing — Light Heavy Finals — Computer
Oxym Oron is the favorite.
3:00 p.m. — Diving — Women's 10m Platform — Computer
4:00 p.m. — Men's Field Hockey — Belgium vs. Argentina, Gold Medal — Computer
Do I dare watch men's field hockey? I had no idea this was even a thing. And what a weird couple of countries to be in the finals, right? I'm so scared to even dip my toe into this match, but I know that I need to follow my fear. In four years, I could be America's number one men's field hockey fantastic. Watch out for my 9,000-word preview in Tokyo. (Replayed on CNBC at 6 p.m.)
4:05 p.m. — Wrestling — Women's Freestyle 53kg Finals — NBCSN
4:50 p.m. — Wrestling — Women's Freestyle 63kg Finals — NBCSN
Everyone was up in arms when they almost took wrestling out of the Olympics four years ago, but come on, would we really have missed it?
5:35 p.m. — Wrestling — Women's Freestyle 75kg Finals — NBCSN
6:00 p.m. — Women's Basketball — U.S. vs. France (Semifinal) — NBCSN
Any sport where one team could start with a 35-point handicap and still win in the semifinals needs some serious tinkering.
7:30 p.m. — Field — Men's Shot Put — Computer
I like to think that the throwing events evolved from ancient warfare, but that only holds up with javelin. Unless there were whole regiments of men committed to throwing heavy stones, discs, and hammers at the enemy. Which would have been kinda cool.
7:30 p.m .— Women's Handball — Norway vs. Russia (Semifinal) — Computer
Just a little handball to whet your appetite before the medal rounds.
8:10 p.m. — Field — Women's Javelin — Computer/NBC
8:45 p.m. — Track — Men's Decathlon Finals — NBC
The winner of this event is technically named "the best athlete in the world," but I think that's kinda bullshit. To me, these are just pretty good athletes with commitment issues who couldn't decide on a sport.
9:00/9:15 p.m. — Taekwondo — Women's 57kg/Men's 68kg Finals — Computer
9:15 p.m. — Track — Women's 400m Finals — NBC
9:30 p.m. — Track — Men's 200m Finals — NBC
Usain!! If anyone doubts he's going to win this event, you know nothing of the world.
11:00 p.m. — Men's Beach Volleyball — Italy vs. Brazil, Gold Medal — NBC
I've adopted Italy's Daniele Lupo as my favorite non-American athlete of the Rio Olympics. He's the kind of dude who isn't huge or that muscular, but is always making the right play at the right time, and is just devastating under pressure. It hurts to know that the Dalhausser/Lucena team beat these guys in the group stages, but rooting for Lupo mitigates the hurt. Also, his name is Lupo, which is very cool. All hail the sand wolf.