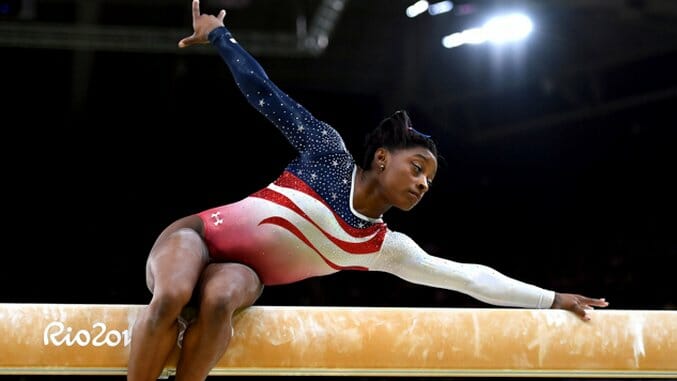 Welcome back to your essential, indispensable, dare I say HEROIC Olympic viewing guide. The old hands already know how this goes, but if you're a new recruit, here's what we're all about:
1. Using both NBC's various TV channels and their excellent live streaming site, I will show you how to watch the Olympics with an unmatched level of obsession and fanaticism. Note that every event listed on a TV network can also be streamed live, though the opposite is not true.
2. The focus is on catching every event where a medal is at stake, regardless of sport, and every team sport match featuring America. Follow me, and you'll miss nothing.
3. Everything you see below is LIVE. We may be many things, but we are not tape-delay punks.
For a handy one-stop schedule of each event for the full two weeks, I made this spreadsheet to aid in your quest. Refer to it as needed.
Day six? Day six. Here we go.
Thursday
9:12 a.m. — Rowing — Men's Quadruple Sculls Finals — Computer
We're about to CRAZY with rowing, y'all. There were already supposed to be four finals today, but then rain canceled everything yesterday, and the result is a clusterfuck of boats. Which I'm super into. In fact, my first album of spoken-word poetry was called "A Clusterfuck of Boats." It didn't sell well domestically, but it's huge in Australia.
9:24 a.m. — Rowing — Women's Quadruple Sculls Finals — Computer
Unfortunately, "sculls" appear not to be related to "skulls" in any way. (This is one of the few rowing events the U.S. could win.)
9:44 a.m. — Rowing — Men's Pair Finals — Computer
Eight years ago, Hamish Bond and Eric Murray of New Zealand decided to team up for this event. Since then, they haven't lost a single race. Beyond U.S. women's basketball, this is the closest thing to a sure thing in the Rio Games.
10:00 a.m. — Tennis — Early Rounds — Bravo
Another rain cancellation yesterday forced this tourney back. Today was supposed to be the quarterfinals, but instead there's early action to finish up, including Rafa Nadal and America's last male hope, Steve Johnson.
10:04 a.m. — Rowing — Women's Double Sculls Finals — Computer
Oh, you thought we were done with rowing. Son, we are never done with rowing. You remember the movie Waterworld? Pretty soon that's us, and rowing will be your entire world. (Note: No idea if our version of Waterworld will also include the machine that changes urine into drinking water.)
10:24 a.m. — Rowing — Men's Double Sculls Finals — Computer
The Sinkovic brothers from Croatia are favored here. I like Olympic siblings, but I don't like Olympic parent/child pairs, because I believe a child should have to kill his parents before he or she is worthy to compete in the Olympics.
10:40 a.m. — Women's Water Polo — U.S. vs. China — NBC
The women are 1-0 and looking to defend their London gold.
10:44 a.m. — Rowing — Men's Coxless Lt. Four — Computer
I just want to say that I don't agree with the rule that the men in this race have to be coxless. It seems barbaric, and I don't really see how it would help them go faster. I officially call for an end to enforced coxless rowing.
11:00 a.m. — Shooting — Women's 50m Rifle, 3 Positions — Computer
The three positions: Casual repose, suggestive backward lean, Walt Whitman leaves of grass stance.
12:00 a.m. — Men's Rugby Sevens — U.S. vs. Spain — Computer
This is a placement match, meaning neither team has a shot at a medal, but rugby has been so awesome that I don't care. That being said, I'm pretty sure this match will devolve into Spain trying to kick the ball everywhere, while the U.S. re-invents the forward pass.
1:15 p.m. — Canoe — Men's Doubles Whitewater — Computer
Two dudes. One canoe. White water. (Is a tagline they definitely shouldn't use for this event.)
1:30 p.m. — Rugby Sevens — Men's Semifinals — NBCSN
Fiji, Japan, Great Britain, and South Africa remain. Three of those are island nations, which is no coincidence—they're so precise with their passing because when you play rugby there, an errant ball will go into the ocean and be stolen by pirates. (It's almost midnight, and I'm giddy with fatigue.)
2:00 p.m. — Kayak — Women's Singles Whitewater — Computer
One woman. One kayak. White water.
2:30 p.m. — Women's Beach Volleyball — Fendrick/Sweat vs. Russia — NBC
This is an absolute must-win if the U.S. second team has any prayer of making the knockout rounds as a third-place "lucky loser." They're 0-2 so far, while our other team (Walsh-Jennings and Ross) just finished pool play 3-0.
2:30 p.m. — Weightlifting — Women's 69kg Finals — Computer
3:00 p.m. — Gymnastics — Women's Individual All-Around — Computer
Simone Biles should win easily, which actually makes me quite nervous, because she's awesome and I'm afraid she's going to fall off the balance beam or something. Gymnastics is usually absurdly tense, and it was kind of awesome in the women's team finals when the Americans totally dominated everyone. But I have this weird feeling we're going to be in for a dog fight this time. I recommend watching this online and not waiting for NBC to show it in primetime, unless you like staying up til one a.m.
3:27 p.m. — Archery — Women's Bronze/Gold Matches — NBCSN
There are three South Korean archers in the final eight. Anything short of two on the podium would be a significant upset.
3:30 p.m. — Men's Beach Volleyball — Dalhausser/Lucena vs. Italy — NBC
A chance for our guys to finish pool play at 3-0. Just like on the women's side, the other American squad needs a lot of help to join them in the knockout rounds.
4:00/4:20 p.m. — Judo — Women's 78kg/Men's 100kg Finals — Computer
Every day in the judo category I talk about how judo is kind of lame, and today will be no different: Judo is kind of lame.
5:30 p.m. — Rugby Sevens — Men's Bronze/Gold — NBCSN
I'm a Fiji man, and I don't care who knows it.
5:21 p.m. — Track Cycling — Men's Team Sprint Bronze/Gold — CNBC
This is the crazy velodrome shit where the bikers all look like they're riding parallel to the ground, and go really high up on the walls and everything. The team event is sort of difficult to follow, but the speeds are ridiculous and fun. Watch one of these races before the games are over.
5:30 p.m. — Fencing — Women's Team Epee Finals — Computer
Epee is the sword pirates used when they want to deflate lost rugby balls on the coast of certain island nations.
6:00 p.m. — Weightlifting — Men's 77kg Finals — Computer
Fine.
6:30 p.m. — Women's Field Hockey — U.S. vs. India — NBCSN
Fine.
7:30 p.m. — Table Tennis — Men's Bronze/Gold — Computer
We had an all-Chinese women's final yesterday, and guess what? There's a very strong possibility that the men's final will also be all-China. If only the Americans had a mentally challenged man who looked just like Tom Hanks with a buzzcut and could quote aphorisms at the Chinese to shame them, we might have a chance.
9:17 p.m. — Swimming — Women's 200m Breaststroke Finals — NBC
Lilly King flamed out completely, so we're left without an American here. But that's okay—winning the 100m gold and calling out the Russian for doping make her a permanent national hero.
9:26 p.m. — Swimming — Men's 200m Backstroke Finals — NBC
I wish there was backward running track & field.
9:30 p.m. — Men's Volleyball — U.S. vs. Brazil — NBCSN
We're 0-2, and Brazil are the gold medal favorites. Volleyball is fun, but this could be quite ugly.
10:01 p.m. — Swimming — Men's 200m IM Finals — NBC
THE BEST. Phelps vs. Lochte, one last time, for all the glory. For me, the clear highlight of the night for me.
10:18 p.m. — Swimming — Women's 100m Freestyle Finals — NBC
The Australian Campbell sisters are awesome and favored to finish 1-2, but you have to watch out for the Swedish Fish, Sarah Sjostrom. And I'll let you decide whether that's true, or whether I just want to use the nickname "Swedish Fish" again, because it's so awesome and I'm pretty sure I invented it.
You've almost made it a full week—get some rest, and be ready to come on strong tomorrow. You're Michael Phelps, and the Olympics are Ryan Lochte. You got this.