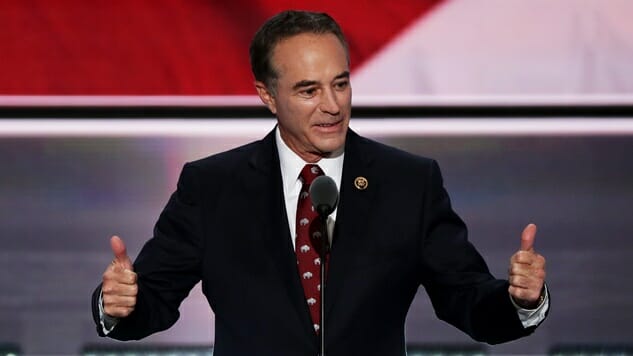 Michael Zak, the former Green Party congressional candidate for New York's 27th district, has been identified as a Republican plant after his connections to the district's Republican incumbent, Rep. Chris Collins, surfaced.
Suspicions about the legitimacy of Zak's candidacy first arose after he submitted his petition to run in the race. His petition listed local Republican and Erie County Legislative clerk Ross Kostecky as the official contact person. Kostecky interned on Collins' Erie County executive campaign in 2009 and maintained a relationship with people associated with Collins' campaign, most notably his campaign manager Chris Grant. "Of course I know Ross Kostecky. I've known him for years. He's a good Republican," Grant told The Daily Beast.
Kostecky was also an alternate delegate at the 2016 Republican National Convention. While there, he took a photo of Collins as he seconded the nomination of Donald Trump.
Despite Kostecky's connection to Collins and his campaign director, Grant claims that he had no knowledge of his association with Zak. "As to why he did this, you'd have to ask him. Our campaign has absolutely nothing to do with [Michael Zak]. We don't know this person," said Grant.
Local Democrats and Green Party members quickly linked the relationship between Kostecky and Zak back to Collins, seeing Zak's candidacy as nothing more than an attempt to divert votes away from Collins' Democratic opponent, Nate McMurray. The Democratic Congressional Campaign Committee identified Collins' seat as one ripe for flipping blue in the upcoming midterm elections, which would be more than enough motive for the GOP to employ such subversive tactics. "I have a hard time believing that someone in [Collins'] campaign wasn't aware of this," said Erie County Green Party chairman Eric Jones, adding, "The local Republican leadership is aware of this; it's part of their playbook."
The use of Zak as a plant was ingenious, as he shares a first and last name with an Erie County Green Party member who runs a cooperative farm in Buffalo. The similarity made it rather easy for Zak to collect enough signatures to successfully petition for inclusion on the ballot.
Zak's candidacy marks the third time in four years that Republicans have employed a fake Green Party candidate in order to influence an election in Erie County. It's a tactic that is hard to fight as it is not illegal, but it is viewed as incredibly unethical by Jones. "Just because something's legal doesn't mean it's ethical … It's an obvious attempt to take advantage of voters going into the voting booth," said Jones.
Jones also believes that Zak's fake candidacy shows that Collins believes his position is vulnerable as anti-Trump sentiment continues to fuel the metaphorical "Blue Wave" ahead of the midterm elections. "I do think it's a winnable race for the Democrats just because how much negativity you have toward Trump these days, even among a lot of Republicans," said Jones.
Zak withdrew his candidacy on April 16 after the connections were exposed, in addition to the discovery of a since-removed Facebook page belonging to Zak that promoted racist memes and sexist statements. Collins maintains that he had nothing to with Zak, telling a local news station that it was "interesting" to watch the drama play out.