Biden Leads Democratic Frontrunners in New Polls, Bernie Sanders Tops Among Non-White Voters
Photo by Lisa Lake/Getty
Politics
News
2020 Election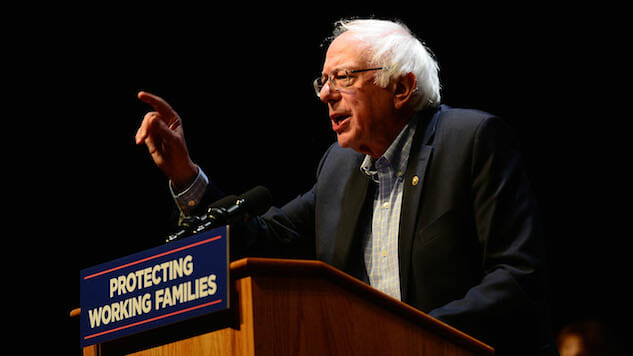 As 2019 inches closer and closer, news of 2020 presidential candidates streams in, too. Though no one has officially thrown down the gauntlet against Trump, several outlets are already running polls and making predictions about who would be his best challenger. As expected, polls differ widely from source to source for a variety of reasons, but there are some definite trends here. We took a look at polls from CNN, the Des Moines Register and MoveOn that asked likely voters who would have their support in 2020. Here's what we found.
The six most popular candidates are exactly who you'd expect. In each poll, and just about every phrasing of the question, the six most popular candidates were Joe Biden, Bernie Sanders, Beto O'Rourke, Elizabeth Warren, Kamala Harris and Cory Booker—in roughly that order, too. If you've been following the bids for Democratic nominees in 2020, there shouldn't be any surprises here. As far as Democrats go, these are probably the six household names you'd most associate with the party, barring a few (we'll get to Michelle and Hillary later).
Across the board, former vice president and national cool guy Joe Biden was the standout, but Paste's Jacob Weindling has explained why that's an issue. CNN's poll asked 1015 participants (32 percent Democrats, 26 percent Republicans and 42 percent independents or members of another party) whether they viewed "some people in the news" favorably or unfavorably. Biden beat Sanders by three points for the highest ratings at 54 percent favorability. The rest of the crew fell behind dramatically after that as "never heard of" and "no opinion" responses grew. Warren garnered 30 percent, O' Rourke sat at 25 percent, Booker had 24 percent and Harris followed up at 22 percent.
Asked specifically who would be the best fit for a presidential bid, there was a similar shakedown, with notable differences: Democratic respondents favored Biden and Sanders the most, as before. Though Warren was more favorably viewed than O'Rourke and Booker, she came in last in this presidential poll. O'Rourke followed the two frontrunners, beating out Booker, Harris and Liz by four, five and six points, respectively. O'Rourke only defeated the "None" option by a single point.
CNN's poll also shows who's throwing their support in by demographic. 58 percent of Sanders supporters were non-white, the most among his competitors, with Biden coming in close behind at 56 percent. Biden comes out on top over Sanders when it comes to women voters. though, with another 58 percent to 56 percent difference.
The Des Moines Register's approach was similar, polling 455 registered voters who say they're definitely or probably going to participate in the 2020 Democratic caucus. When asked who their first choice would be a for a 2020 presidential candidate, respondents said Biden 32 percent of the time, Sanders 19 percent of the time, O'Rourke 11 percent, Warren eight percent, "Not Sure" six percent, Harris five percent and Booker four percent.
You, like ourselves, might be less than thrilled about these folks. So were respondents to progressive online organization group MoveOn's poll. In the other two surveys, Biden was a clear winner, with unsure or none options in the bottom third, but MoveOn's poll shows "Someone else/Don't Know" as the leader with 17.89 percent. O'Rourke edged out Biden by less than a point and Sanders trailed by about two points. Harris followed with 10.02 percent, Warren with 6.42 percent and Booker fell in last among all choices with 2.6 percent. The straw poll among members of the group is proof of how divided voters are, even within parties, on who should lead.
Although Democrats aren't sure about the right choice, these polls together show a devotion to the white choice—the white male choice, specifically. In every poll, it's a race between O'Rourke, Biden and Sanders. O'Rourke only recently came into national fame with his midterm bid, but still defeated well-known (and well-debated) candidates Booker, Harris and Warren. There's only one potential exception to that trend: The Des Moines Register asked respondents whether four less-likely candidates would be beneficial or detrimental for the Democratic presidential bid. Hillary Clinton and Oprah Winfrey both would detract from the race, according to respondents, but 76 percent of answers said Michelle Obama's candidacy would be positive.
None of these candidates are perfect, and none of them have even officially declared their presidential campaigns. They're all better than the boss baby driving our nation right now, but that's not to say they shouldn't be put under scrutiny. These polls reflect the uncertainty and skepticism among liberals after Hillary Clinton's defeat. A few years ago, many Americans were resolute in her victory, and even if they weren't totally supportive of Clinton, they did their duty. It wasn't enough, though, and because of that, it's hard to tell what the perfect candidate looks like. Democrats know who they don't want and have no idea who they want.