FCC Chairman Ajit Pai Is Under Investigation Over Sinclair's Purchase of Tribune Media
Photo by Alex Wong/Getty
Politics
News
Ajit Pai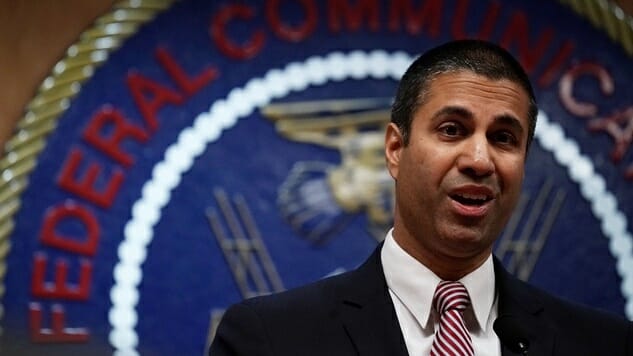 FCC Chairman Ajit Pai hasn't been on the job long, but is already embroiled in his second large-scale, highly controversial decision. Before the Net Neutrality repeal that made him a household name, Pai worked to increase caps on broadcast TV ownership mere weeks before the Sinclair Broadcast Group, owner of a vast amount of local TV stations across the country, announced a $3.9 billion dollar deal to acquire Tribune Media. The deal, if approved, would put Sinclair's programming in roughly 70 percent of American homes, mostly through local TV affiliates.
Now, Pai is under investigation by his own agency as questions continue to arise around the timing of Pai's push to increase the cap in connection with the Sinclair/Tribune agreement. According to the New York Times, the FCC Inspector General David L. Hunt has been investigating any wrongdoing for some time now, but the investigation wasn't made public until Thursday. At the core of the probe is whether Pai and his aides within the FCC abused their power and the nature of Pai's relationship with Sinclair.
Pai is no stranger to the communications world. Before being appointed to the FCC, Pai was an attorney for Verizon, a relationship that has also brought up concerns regarding the agency's dealings with media and communications companies.
There is already some evidence to cast doubt on the integrity of Pai's decisions and relationship with Sinclair. The New York Times reported last August that Pai and his aides were in communication with Sinclair executives more than a few times, and Pai met with Sinclair's executive chairman just days before starting at the FCC.
While it wouldn't be good for any media group to own such a large majority of local TV stations, it would be especially troubling if Sinclair were allowed such a high stake in the main news source for the majority of Americans. Sinclair presents the conservative-bent commentary and coverage of national networks like Fox News through local TV affiliates, most notably through the local news broadcasts on those stations. The company produces "must-run" pieces for its affiliates that consist of inflammatory opinion pieces, partisan news coverage and a daily segment known as the "Terrorism Alert Desk." That last one is the most gross as what constitutes a report from the "Terrorism Alert Desk" could be anything from an actual terrorist attack to a report about people wearing "Burkinis" on a French beach.
Former Trump spokesman Boris Epshtyn, who famously spouted on about voter fraud in North Carolina after Trump won the state and no evidence emerged to support those claims, serves as the chief political analyst for Sinclair. In a report from Politico, Trump's campaign made a deal with Sinclair in 2016 that promised more accessibility to Trump in exchange for positive coverage.
Pai's decision to raise ownership caps even united Congress at the time, as both bodies called for an investigation following the move. It is unknown how long the investigation will take, but for those of us who thought Pai dancing to the Harlem Shake while fist-pumping with a nerf gun in a video with several employees of conservative media outlet The Daily Caller was the pinnacle of anger-inducing unpopularity, it seems as if Pai might have just outdone himself with this one.