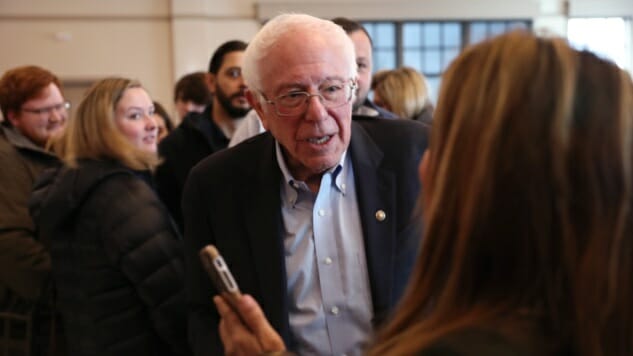 There is a debate to be had about how much the money race in the 2020 primary (and later, the general election) will influence results, but as of today there is no debate about who's winning. That's Bernie Sanders, who has raised over $26 million in the fourth quarter of 2019—the highest quarterly total of any candidate in 2019—and who is making a push for five million total contributors by the end of the year. As the Times notes, no other candidate has yet announced reaching three million contributors. Joe Biden is having a better fourth quarter than third, and Elizabeth Warren has slipped by roughly 20 percent, but nobody can match Sanders' war chest:
And despite Mr. Biden's turnaround on the fund-raising front — he raised more in just October and November than he had the previous three months — he entered the fall with only a fraction of the cash of his leading rivals. His $9 million in the bank on Sept. 30 trailed Mr. Buttigieg by $14.4 million, Ms. Warren by $16.7 million and Mr. Sanders by $24.7 million, gaps he is unlikely to substantially close.
Of course, what's impressive about Sanders' numbers isn't the sheer total, but the way it's being raised. Unlike his opponent, he doesn't hold big-money fundraisers, and his average contribution is just $18. The fact that he's still out-raising his opponents despite getting far less per contribution is a dual indicator of strength.
The question is, will it matter? Sanders' fundraising prowess tells us a few things we already knew—his base is loyal, solid, and passionate. What remains to be seen is whether it's big enough, and whether the money he's getting from that base can help expand it. In response to the Times story, Biden surrogates said that "we are definitely going to have enough to prosecute a campaign in all 50 states through the primaries." Which is what they would say, of course, but it may not be that far from the truth—after a certain point of saturation, the dividends of having millions more may not play a critical role. That's especially true for someone like Biden, who has all the name recognition he needs and a base of voters that, at the moment, looks larger than Sanders' base, and just as immovable.
There's a potential parallel in 2016, when Sanders out-raised Hillary Clinton among small-dollar donations and routinely drew enormous crowds that dwarfed hers. Still, enthusiasm isn't the same as votes, and though he came close, he couldn't overtake her. Biden is trying to own the Hillary spot in this year's primary, where name recognition and strength among seniors and black voters, especially in the south, can't be overcome by sheer political energy.
Meanwhile, Pete Buttigieg has not flagged nearly as much as Warren, and has benefited from huge donations from Wall Street to climb above $20 million in the fourth quarter. According to the Times there is more of that money to come in January.