Christine Blasey Ford, Kavanaugh's Accuser, Has Been Forced to Move Due to Threats
Photo by Drew Angerer/Getty
Politics
News
Brett Kavanaugh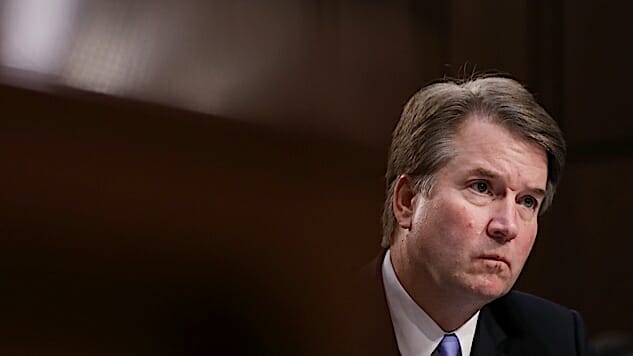 This via the Daily News, which further proves the absurdity of Ford going out of her way to lie about any of this, or do it for the fame, or do it for revenge, or etc.:
The woman accusing Brett Kavanaugh of sexual assault has been forced to move out of her home after receiving a torrent of death threats, a person close to her said Tuesday — but President Trump claims he feels "terribly" for her alleged attacker.
Christine Blasey Ford has been fielding threats over email and social media since she went public with allegations that Kavanaugh drunkenly forced himself on her while they were both attending high school in Maryland, according to the friend.
Of course, Ford knew that her life was about to be terrible the minute she stepped forward. It's why she delayed so long—to avoid "retaliation and public attacks," as Vox put it:
Ford had been in contact with the Post for weeks but had declined to go public with her allegations, fearing retaliation and public attacks. Her calculations changed after the news of her letter broke broke earlier this week, and ultimately, she said, she came forward out of concerns that reporters would soon identify her and a sense of public duty.
"These are all the ills that I was trying to avoid," Ford told the Post. "Now I feel like my civic responsibility is outweighing my anguish and my terror about retaliation."
Those attacks have materialized, just as she expected, and they have driven her away from her home:
"There have been vulgar emails and social media messages and death threats," the friend told the Daily News, speaking on condition of anonymity. "She has moved out of her house and is arranging for private security for her and her family."
Now, Ford and her attorney Debra Katz are asking the Senate Judiciary Committee to allow the FBI to investigate her allegations before she goes in front of the Senate to testify. This makes sense, of course, since any Senate "investigation" will be immediately marred by partisanship. It also makes sense that Chuck Grassley and the Republicans on the committee are loathe to agree, since any delay means potentially pushing the nomination to the other side of the midterms, when the Senate makeup might look very different. As of now, they're still insisting on hearing Ford's testimony this coming Monday.
After paying lip service to the "process" on Tuesday, Trump went out of his way to compliment Kavanaugh to the hilt:
BREAKING: Pres. Trump says he wants to move forward with the nomination of Brett Kavanaugh despite an allegation of attempted rape pic.twitter.com/G5jWofRjj6

— NowThis (@nowthisnews) September 17, 2018
Tuesday, he had nothing but kind words for Kavanaugh's "impeccable history," and stated that he "felt so badly for him." Trump added: "This is not a man that deserved this."
President Donald Trump on the allegation against Supreme Court nominee Brett Kavanaugh: "I feel so badly for him. This is not a man that deserves this" pic.twitter.com/q6DX1e7EnI

— CNN Politics (@CNNPolitics) September 18, 2018
And on Wednesday morning, he took the added step of casting doubt on the accusation directly: "He is such an outstanding man, very hard for me to imagine that anything happened."
Trump on Kavanaugh and Blasey Ford: "Very hard for me to imagine that anything happened." pic.twitter.com/tSiyrMc2gg

— Josh Marshall (@joshtpm) September 19, 2018
As I wrote yesterday, this is only going to get worse as the week goes on, and it's hard to imagine that Kavanaugh has any chance to survive the process.