In Flimsy FBI Report, Senate Republicans Have the Justification They Need to Justify Kavanaugh
Photo by Drew Angerer/Getty
Politics
News
Brett Kavanaugh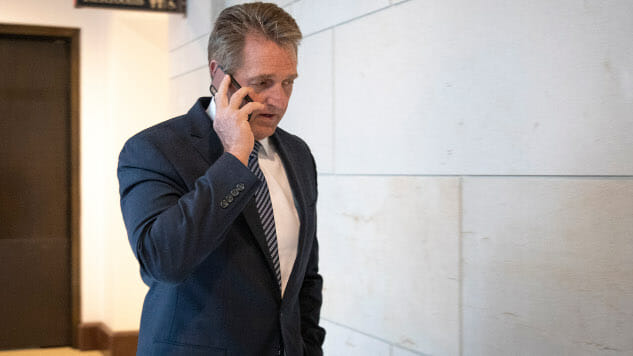 The FBI report that could decide Judge Brett Kavanaugh's fate on the Supreme Court is currently under review at the Senate, and comments by Senate Republicans suggest that Kavanaugh will make it through, despite criticisms from Senate Democrats about the limited scope of the agency's investigation into multiple allegations of sexual misconduct made against the nominee.
Ariz. Sen. Jeff Flake, who spurred the investigation with his vote after last week's hearings on the allegations, and whose is one of the key Republican votes still hanging in the balance, told reporters, "we've seen no additional corroborating information" in the reports.
Jeff Flake tells reporters: "We've seen no additional corroborating information"

— Manu Raju (@mkraju) October 4, 2018
"It appears to be a very thorough investigation," Maine Sen. Susan Collins, another critical Republican vote, told reporters.
SIREN: Susan Collins: "It appears to be a very thorough investigation." @jeremyherb

— Manu Raju (@mkraju) October 4, 2018
And Chuck Grassley, who was never a swing vote but who chairs the Judiciary Committee, set the tone for Republican response after reading the report:
GRASSLEY: "There's nothing in it that we didn't already know… It's time to vote. I'll be voting to confirm Judge Kavanaugh." pic.twitter.com/h1zUeIDP3F

— Ryan J. Reilly (@ryanjreilly) October 4, 2018
The White House gave the FBI clearance earlier this week to interview whoever it wanted following criticisms regarding the limited scope of its investigation of the allegations against Kavanaugh, but some Senate Democrats have remained critical of what's still missing in the agency's report, including key testimonies from witnesses who were former classmates of Kavanaugh at Georgetown Prep and Yale.
"We have heard from numerous people over the last few days seeking to provide information to the FBI. We have seen even more press reports of witnesses who wanted to speak with the FBI but were not interviewed," Calif. Sen. Dianne Feinstein, ranking member of the Senate Judiciary Committee that brought forth the FBI investigation, told reporters on Capitol Hill. "Deborah Ramirez's lawyer says he was unaware of any corroborating witnesses who were interviewed," Feinstein continued.
NEW: "The most notable part of this report is what's not in it," Senate Judiciary Cmte. Ranking Member Feinstein says while describing the FBI's new report on Judge Kavanaugh as very limited. pic.twitter.com/N1uOTFDCaN

— MSNBC (@MSNBC) October 4, 2018
Jeff Merkley (D-OR) also chimed in:
I read the FBI report. This whole thing is a sham. This stunted, strangled investigation was designed to provide cover, not to provide the truth.

— Senator Jeff Merkley (@SenJeffMerkley) October 4, 2018
Kavanaugh and his accuser, Dr. Christine Blasey Ford, were not interviewed for the report, and multiple witnesses were also turned down for interviews. A report by Jane Meyer and Ronan Farrow published Wednesday in The New Yorker brought to the public several eyewitnesses who were ignored in the FBI probe.
"I think an obvious component of a credible investigation would have been the witnesses that Dr. Ford offered, to whom she had revealed her sexual assault before Judge Kavanaugh was nominated," Delaware Sen. Chris Coons, part of the Senate Judiciary Committee that made the investigation happen, told MSNBC. "I will look at [the report] with an eye focused on whether the scope of this investigation was so narrowed by the White House and the Republican majority that it failed to meet the test of really respecting Dr. Ford's allegations," he later said.
Despite these concerns, it looks like Kavanaugh is indeed headed to the Supreme Court. While this appears settled, at least for now, the national fight over Kavanaugh's nomination will have lasting implications on the upcoming midterm elections.