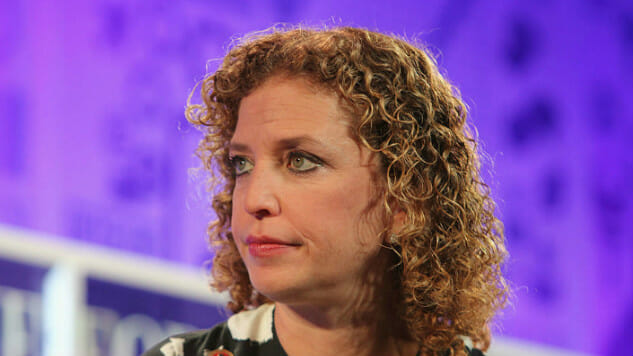 The last time I saw Debbie Wasserman Schultz was at the Brooklyn Democratic presidential debate. As soon as she walked out onto the floor of the press room she was swarmed by reporters. The question on everybody's lips: What was the Democratic National Committee's reaction to the growing disharmony within the party? In the months prior the April debate, events had occurred which soured the relationship between Bernie Sanders' camp and the party establishment—none more so than the seemingly purposefully sparse debate schedule set by Schultz herself. Hillary Clinton's co-campaign chair from 2008, now the chair of the DNC, cooly deflected and hedged her answers. This was all routine to the seasoned politician and political operative.
Elbowing my way through the sea of reporters, far more assertive and experienced than myself, I managed to get to the head of the swarm. It was there, sandwiched between besuited journalists that I came face to face with the controversial party leader.
"Would you consider stepping down to unite the party in November?" I blurted out.
In retrospect, this question probably seemed premature to just about everyone around me. This was before any of the DNC's controversial email leaks. Schultz was no exception, her surprise betrayed by a momentary slip of her practiced demeanor. Her eyes seemed to pierce me as she responded, "I have no intention of stepping down, and that wouldn't unite the party." This was the first and only time the DNC chair appeared to acknowledge the growing split in between the progressive base and the establishment.
This encounter was three months and ten days ago. Apparently, Schultz and the powers that be within the Democratic leadership have had a change of heart. Yesterday, she resigned amidst the burgeoning email scandal that threatens to fracture the party at a time when Hillary Clinton, in spite of relentless attack ad bombardments in key states, is losing to Donald Trump by a slim margin. In fact, Nate Silver just announced that the GOP nominee has a 57.5 percent chance of winning. The hacked emails appear to show high ranking DNC officials favoring, and even conspiring, to push Clinton towards the nomination at the expense of Bernie Sanders.
It was with mixed feelings that I read the breaking news headline announcing Schultz' departure—which may surprise some of my readers who know that I write from a progressive viewpoint. On the one hand, as has become abundantly clear, the resignation was the right move. For months Sanders supporters have been calling for accountability for what many feel has been a rigged primary, and Schultz' DNC violated its neutrality time and again.
Still, I can't help but feel that something is wrong. Though I have had my fair share of problems with Schultz as a politician—over issues like her draconian stance on marijuana, payday lenders (which she reversed) and her treatment of Bernie Sanders—I feel no sense of joy (relief perhaps) in her stepping down. If anything the news just depresses me.
Schultz, despite a secret battle with breast cancer (for which she underwent seven major surgeries), earned a reputation as an effective attack dog during the 2008 presidential campaign. Though she had been Clinton's co-campaign chair, once Barack Obama became the nominee, she impressed the now-president with her tenacity and loyalty—so much that he appointed her to the head of the DNC in 2011. As the third female chair in history, Schultz has paid her dues, and been essential in outreach efforts to women voters. Her outspokenness and drive have been critical in reshaping the party in the aftermath of the New Democrat takeover in the 90's. Without Schultz efforts the modern Democratic Party would likely be far more conservative.
It is a shame that someone with such a record would be forced to resign under such ignominious circumstances; it is a shame that the Democratic leadership has seemed so set on squandering the millions of new voters Sanders brought into the process; it is a shame that so many young people have become disillusioned by this primary; it is a shame that our democratic process has been so corrupted by hidden agendas and secrecy; it is a shame that, in all likelihood, we will just have to live with this state of affairs. And yet, here we are. The email leaks are real, and they are damning.
The fact of Schultz' departure speaks to the fact that the Democratic Party—and especially Hillary Clinton—is in serious trouble. It feels like just yesterday President Obama was stepping in on her behalf to help in her primary against Bernie progressive, Tim Canova. Today, however, there is silence. The only thing the closest and most influential of her allies can do for her is offer her a conciliatory position for a job well done. Clinton named Schultz her honorary chair of her 50-state program. But this position seems less a chance at redemption, and more a mafia-esque thanks for her loyalty in taking the heat for her party:
There's simply no one better at taking the fight to the Republicans than Debbie-which is why I am glad that she has agreed to serve as honorary chair of my campaign's 50-state program to gain ground and elect Democrats in every part of the country, and will continue to serve as a surrogate for my campaign nationally, in Florida, and in other key states.
Herein lies the crux of the problem: The appearance of cronyism and quid pro quo only compound the damage already done during the primary. Schultz not only undermined her own legacy, but public trust in the party she has dedicated her life to, as well. By extension, faith in process has been shaken. The most essential element to maintaining our American experiment has been robbed from us, and it will take years to get it back. That is not something to celebrate.
Update: The original version of this article said that Hillary Clinton had a slim lead over Donald Trump. That has changed.