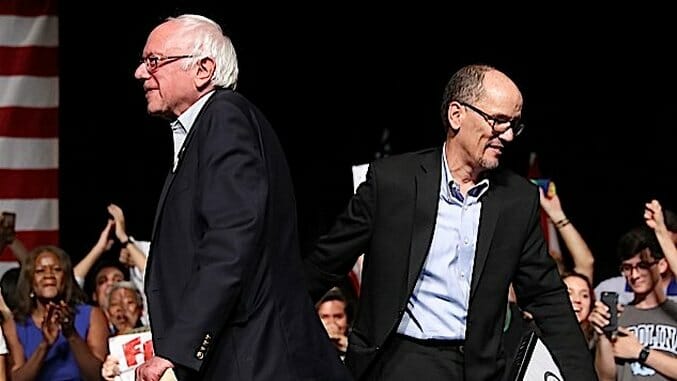 Congressional candidates across the country are running Bernie Sanders style campaigns focused on funding from small donors, disavowing support from corporate Super PACs. Often substantially out-raised by other candidates with support of wealthy donors, many of these candidates are finding themselves facing another disadvantage: Expensive fees charged by state parties to access voter data.
In New Hampshire's first congressional district, Democratic candidates are being asked to pay the state party a fee of $37,500 to access the New Hampshire Democratic Party's voter data, according to four of the eight Democratic candidates we spoke with. "Would we like to give it away? Absolutely, but between 20 years of compiled data, the cost of upkeep and updating it, the add-on services we provide, and extra security, we can't afford to," said New Hampshire Democratic Party spokesperson Wyatt Ronan in an email to us. Republican Congressional Candidate, State Senator Andy Sanborn confirmed New Hampshire Republican Party does not charge their candidates for access to party voter data.
The New Hampshire Democratic Party has out-raised the State Republican Party by roughly $120,000 in the 2018 election cycle, in addition to $400,000 more in investment from the DNC and other sources than what State Republicans have received. The New Hampshire Democratic Party argued the Republican voter file is much less extensive than theirs, and pointed to recent electoral wins on federal and state levels that have heavily favored Democrats. The DNC and New Hampshire Democratic Party earmark in-kind contributions of $2941.47 per month for voter file access to each other's voter data.
"I think it's clearly an artificial barrier to entry put in place by the State Party to discourage competition," said Terence O'Rourke, a Democrat Congressional Candidate in New Hampshire's 1st District and City Attorney for Rochester, New Hampshire, in an interview with us. The September 11 Democratic Primary is an open race to determine the nominee to try to keep Rep. Carol Shea-Porter's seat under Democratic control as she is not running for re-election. There hasn't been a competitive Democratic Primary in New Hampshire's 1st Congressional District since Carol Shea-Porter first ran for the seat in 2006, defeating the DCCC backed candidate, State House Leader Jim Craig in a five-way race. Shea-Porter paid the New Hampshire Democratic Party $25,000 in 2006 for voter lists, but not until after she won the primary. She paid no voter list fees in the 2008 election, $10,000 in voter list fees in the 2010 election, $9000 in 2012, and none in 2014 or 2016.
Lincoln Soldati, another Democratic Candidate in the race who served 9 terms as Strafford County Attorney told us "Why does the party exist for if it doesn't exist to encourage people to run and help them run effective campaigns? By charging an extraordinary amount of money for the list, which is the means candidates access voters within their own party, they are able to effectively manipulate the system and I think that's an outrage."
Rather than paying the high state party fee, State Rep. Mindi Messmer purchased voter lists from the New Hampshire Secretary of State for $3,255. She will pay a few thousand dollars to a data service for phone numbers and emails to create her own voter database. "If the Democratic party is serious about connecting with disenfranchised voters they must give voters the choice of who best represents them. Then we can actually win elections. It is not in the best interest to eliminate grassroots candidates by pricing them out of a fair shot," Messmer told us in an interview. After the primary, she plans to provide her data to other progressive candidates for free.
"Charging $37,500 to access New Hampshire Democratic Party's voter data is antithetical to democracy. We want to have the best candidate we can to take on the Republican Party in the general election." said Levi Sanders, the son of Bernie Sanders who began his congressional campaign this past February, in an email to us. He added that discouraging people from running for elected office through barriers such as high voter data fees helps Republicans, who do not charge their candidates in New Hampshire to access their state party's voter data.
Many State Democratic Parties do not charge candidates to access their voter data or only charge nominal fees for access, according to several candidates and state party leaders we spoke with. Idaho, Kansas, Nebraska and New Jersey do not charge candidates any fee to access the State Democratic Party's voter data.
"We decided to offer the basic VAN features for free to all candidates to level the playing field," said Jane Kleeb, Chair of the Nebraska Democratic Party, in an interview with us. "It also lets the party knows who is knocking on doors, who is having trouble reaching voters or volunteers. The great thing is, which is one of the important functions a state party serves, that data is then in the voter file for all future candidates. If we're really serious about building the party, that's what we have to do rather than have outside groups do these basic functions or having candidates build their own data."
Kleeb explained state parties have been forced to create funding streams, as national donors have created their own alternative infrastructure, such as Democracy For Alliance in 2004. She added, "you would probably see these fees drastically go down if state parties actually had operating budgets, but we've all had to duct tape and band-aid things because the funding streams have been so constrained, even under President Obama."
In Michigan, the fees charged by the state party are $1500, but increase to $3000 in Texas and Pennsylvania, $3500 in Florida and around $5000 in Georgia, Wisconsin and North Carolina.
"You pay a lot of money to get voter data," David Pechefsky, a progressive running in a primary in New York's 1st Congressional District told us in an interview. "We paid $6,500 to the state Democratic Party. I definitely felt like it was a shakedown."
Other state parties charge fees that campaigns fueled by small donations can't afford, like Iowa where the fee is $15,000. "I refused to pay it because that's too much money," Courtney Rowe, a candidate in Iowa's 1st Congressional District, told us.
In Nevada, the Democratic Party charges $17,500 for use of their voter data through the June 12 Primary election. "While many conventional candidates (who are well connected within the party and who take in huge sums of corporate PAC money) may be able to afford this, it is extraordinarily cost prohibitive to grassroots campaigns — especially those that refuse to accept corporate contributions." Nevada 4th Congressional District Candidate Amy Vilela told us in an email. Vilela is running to replace Rep. Ruben Kihuen (D-NV), who opted against running for re-election after a former staffer came forward with sexual harassment allegations against him in December 2017.
The DCCC recently added candidate Steven Horsford as part of their Red to Blue program, which the DCCC specifies is not an endorsement in the race but does carry symbolic significance. Horsford previously represented the district for one term before being ousted in 2014 by Republican Cresent Hardy, who is also running again this year. Horsford served as a lobbyist in Washington DC until he returned to Nevada after Rep. Ruben Kihuen (D-NV) announced he would not be seeking another term.
Vilela claimed the Democratic Party argued in favor of these fees as necessary for fundraising efforts. "If the goal is fundraising, significantly lowering the fee would allow more candidates to buy in, making up for any deficits while also expanding Democratic voters' choice in Primary Elections," she said. "Ideally VAN access should be free to all Democratic candidates, as is the case in some states and the Party would rely on its ability to excite voters by providing compelling policies and candidates to fuel its fundraising efforts."
Democratic Candidate Jack Love, who is running in Nevada's 3rd Congressional District to replace the vacated seat of Rep. Jacky Rosen (D-NV), told us, "It was far more than we could have ever considered." Another candidate in the race, wealthy philanthropist Susie Lee, who placed third in the 2016 Primary for 4th Congressional District, was added to the DCCC's Red to Blue Program in 2017. Love said, "They were not interested in helping us one bit."
For many progressive candidates challenging Democrat incumbents, several state parties have outright denied them access to the party's voter data to shield the incumbent. In Washington, candidate Sarah Smith has been denied access throughout her campaign's bid against incumbent Rep. Adam Smith (D-WA) in Washington's 9th Congressional District.
"The reason we have fought so hard for VAN access and continue to fight for it is because it's the most affordable option on the market for us. When we tried getting a denial letter from the state party to use TargetSmart, the next most cost effective platform, the Washington State Party denied us a denial letter," Sarah Smith, the only candidate of any party currently filed to challenge Rep. Adam Smith this election cycle, told us in an email. "They forced us to use the most expensive provider on the market as an attempt to price us out of the race. It's an underhanded tactic and just shows what bad sports my party is when it comes to challenging incumbents."
Another candidate in Washington's 3rd Congressional District currently held by Rep. Jamie Herrera Beutler (R-WA), Dorothy Gasque, told us she only was charged $100 for access to the state party voter data, but the fee to access the 2016 Democratic Party caucus data is $26,000. "We took the district 80.8% for Bernie and nearly doubled caucus turnout over the previous record set in 2008. This is our base of support and we are unable to access the data," said Gasque.
The Washington State Democratic Party did not respond to a request for comment.