New Poll: Democrats Hold 15-Point Lead in Generic House Ballot, Enough to Retake Majority
Photo courtesy of Getty
Politics
News
Democratic Party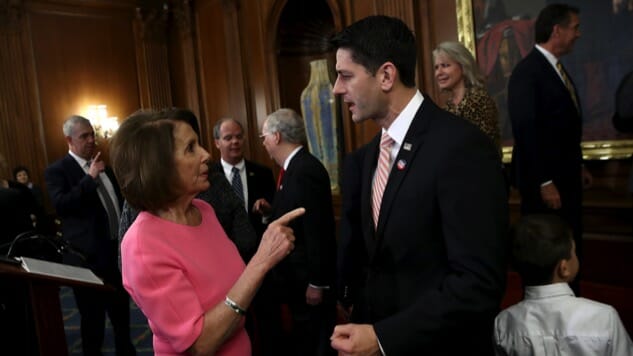 A new Suffolk poll on party preference in the upcoming House midterms shows that among likely voters, 47 percent said they'd support a generic Democratic candidate over just 32 percent who opted for the generic Republican. That's an enormous margin, even months away, and more importantly, it would be enough to override the significant advantage the Republicans hold due to gerrymandering. The national bias against Democrats is historically high—while Trump lost the popular vote by 2.1 percentage points in 2016, Republicans won the median House seat by 3.4 points. That's a 5.5-point edge over the presidential vote, but don't forget that the presidential vote is itself biased against Democrats, as shown by the fact that two of the last three Republican presidential winners have lost the popular vote. What all that means is that for Democrats to retake the House and reverse their current 45-seat deficit, they'd need to win the overall popular vote by far more than 50 percent. (Some claim that a 54-46 win in the overall popular vote wouldn't even be good enough.)
The obstacles are serious, but a 15-point edge in a poll like Suffolk's gives Dems a legitimate path to victory. It also demonstrates that Trump's so-called "tax cuts" are not swaying the country to his side.
"Change may be in the wind for Congress, with voters indicating a general turning-away from the Republican Party," said David Paleologos, director of the Suffolk University Political Research Center in Boston. "We also are seeing a change in the issues voters care most about. This poll shows gun violence as a major concern, whereas in the past we would generally see the economy and terrorism as the issues voters cared most about. However, it remains to be seen whether issues or candidates' personalities will guide voters on Election Day."
Seventy-five percent of those polled disapprove of the job Congress is doing, while Republicans have the highest disapproval rating as a party—60 percent compared to 48 percent for the Democrats.