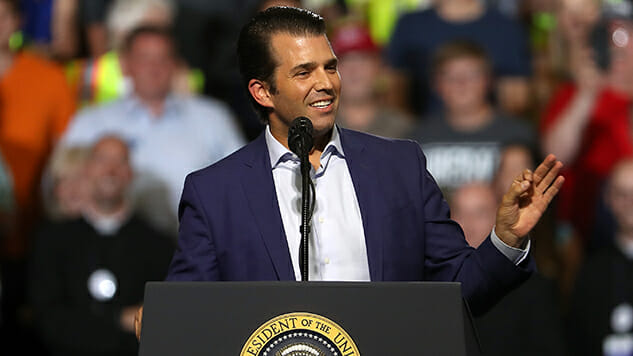 Ready player one: Donald Trump Jr. is slated as the first to be subpoenaed by House Democrats for Russia's alleged involvement in the Trump 2016 presidential campaign, per the Washington Examiner.
Rep. Jackie Speier (D-Calif.) of the House Intelligence Committee addressed the Women's National Democratic Club in Washington Tuesday night, where she confirmed Donald Trump Jr., who is unwavering in denying any Russian interference, will be served first after the investigation is reopened.
"There are a number of persons that testified before the committee that I feel were not telling the truth," said Speier in her address.
House Democrats have long questioned a report written by the previous GOP majority to nullify the issue, and believe that those who testified in private, including the president's golden child in question, were not particularly helpful in coming to a definitive resolution.
For the panel, which will also include involvement from House Judiciary Committee Democrats, all eyes are on the 2016 meeting that occurred between Trump Jr. and a Russian-linked lawyer in the president's place of business and presidential campaign headquarters, New York's Trump Tower.
Trump was quick to defend the "innocent" meeting, and vehemently denies Russian involvement in his 2016 campaign against Hillary Clinton.
Speier called the previous GOP report a "whitewash" and said the panel, headed by Chairman Adam Schiff (D-Calif.), will subpoena key documents from it.
"Those documents were never subpoenaed by the Republicans and so they were able to just produce a whitewashed report that probably was written by someone on the presidential staff," Speier said. "I think it was truly a disturbing series of events over the last two years."