Donald Trump Jr. Takes to Instagram to Mock Woman Who Accused Brett Kavanaugh of Sexual Assault
Photo by Shannon Finney/Getty
Politics
News
Donald Trump Jr.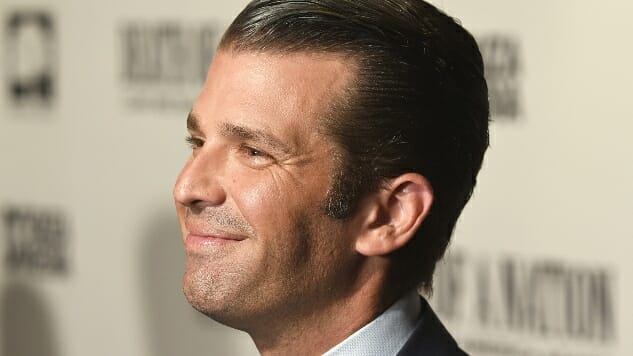 Donald Trump, Jr., eldest son of President Donald Trump, has taken to Instagram to mock the woman who accused Supreme Court nominee Judge Brett Kavanaugh of sexual assault.
The image features a piece of scrap paper with the handwritten text: "Hi Cindy, will you be my girlfriend," followed by two boxes marked "yes" and "no," and the signature "Love, Bret." At the top, the meme reads: "Judge Kavanaughs sexual assault letter found by Dems … "
The image references college professor Christine Blasey Ford's allegation that Kavanaugh assaulted her when they were teenagers. According to Ford, at a party in the early 1980s, Kavanaugh pinned her down, groped her, attempted to undress her and covered her mouth when she attempted to scream. "I thought he might inadvertently kill me," Ford told The Washington Post.
Senator Dianne Feinstein, the leading Democrat on the committee overseeing Kavanaugh's confirmation, received a letter detailing Ford's claim in July, but the charge was not made public until last Wednesday.
Ford came forward to the Post on Sunday, attaching her name to the anonymous allegation.
"Oh boy … the Dems and their usual nonsense games really have him [Kavanaugh] on the ropes now," Trump Jr. wrote in his Instagram post's caption. "Finestein had the letter in July and saved it for the eve of his vote … honorable as always. I believe this is a copy for full transparency."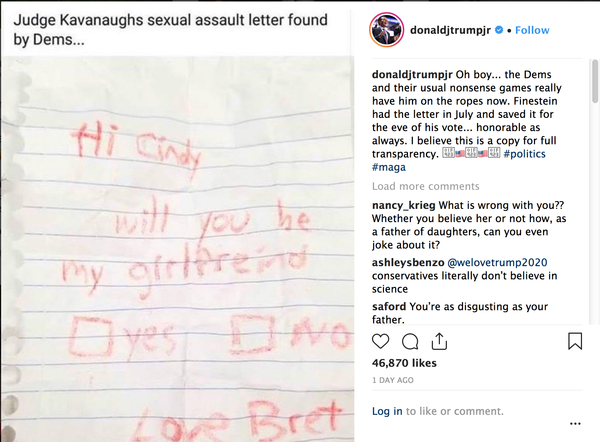 There are a couple of problems with Trump Jr.'s post here, some of course more obvious than others. First and foremost, the image makes light of an accusation that is far from a joking matter, flippantly treating the severe claim as juvenile and of little importance. Less evident but significant nonetheless, Trump Jr. seems to lack a basic understanding of what sexual assault entails: a lack of consent. In his facetious reimagining of the events that took place in the '80s, Trump Jr. suggests that Kavanaugh presented Ford the chance to check a (theoretical) box that said "No."
Kavanaugh has denied Ford's allegation. "I categorically and unequivocally deny this allegation. I did not do this back in high school or at any time," he said in a statement released by the White House.
Though she feared the backlash that she has only just begun to face, Ford feels that her story is too important not to tell. In a statement to the Post, she said, "These are all the ills that I was trying to avoid. Now I feel like my civic responsibility is outweighing my anguish and terror about retaliation."
This morning on CNN, Ford's lawyer announced that his client would be willing to testify.