A Judge Ordered Trump to Unblock His Twitter Enemies. Here's How They Reacted
Photo by Win McNamee/Getty
Politics
News
Donald Trump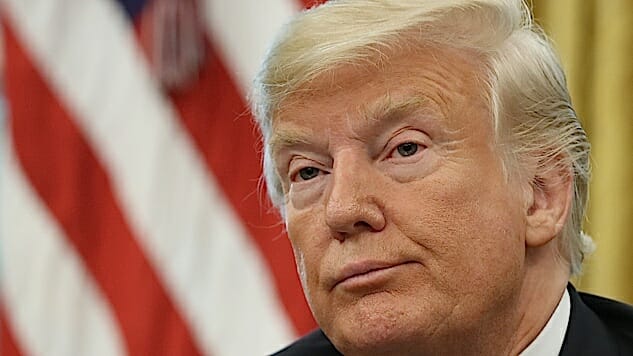 Back in May, a federal judge ruled that it's unconstitutional for the president of the United States to block people on Twitter. The Knight First Amendment Institute filed the lawsuit, arguing that the act of blocking someone for their political views was a First Amendment violation due to public forum doctrines and "viewpoint discrimination." Basically, since Trump conducts his entire presidency on Twitter, blocking is a no-go. It was a fair ruling, but also a hilarious one (a previous judge advised him to use the "mute" button), and on Tuesday it seems that Trump's Twitter team began complying by hitting that old unblock button on his critics. HuffPo was among the sites that tracked the reactions, and there are some real dandies.
A common and excellent bit was to block the president right back:
I've just been unblocked from @realDonaldTrump…

One year. Three months.

I'm back, baby! https://t.co/Fe4oy6iFut

— Jules Suzdaltsev (@jules_su) August 28, 2018
First order of business now that I've been #unblocked. pic.twitter.com/5iuf3jtg3N

— Jules Suzdaltsev (@jules_su) August 29, 2018
Thank you to the Knight Foundation for legally forcing @realDonaldTrump to take out his sticky little phone, scrunch his nose, open Twitter, search my name, shout "Do I seriously have to fucking do this," be told yes by Dan Scavino, take a deep breath, and click "Unblock."

— Bess Kalb (@bessbell) August 29, 2018
Oh my fucking god this feels so good. pic.twitter.com/5CuwDmNnI1

— Bess Kalb (@bessbell) August 29, 2018
Others took it seriously in a way that was totally justified but maybe also just a little sad:
Over a year ago, the President of the United States blocked me on Twitter because I didn't fall for his daily distractions. Thank you to @knightcolumbia for fighting for our 1st Amendment rights—and for truth. The DOJ forced @realDonaldTrump to unblock me today. pic.twitter.com/digCyKrgYq

— Neil Makhija (@NeilMakhija) August 28, 2018
Thanks to the dogged pursuit of free speech and the rule of law by @KatieFallow and @knightcolumbia, I have been unblocked today by @realDonaldTrump. Score another one for justice and American democracy… #Trump

— Andy Ostroy (@AndyOstroy) August 28, 2018
And most just rejoiced with a dose of humor:
I was really hoping Trump would be indicted/impeached/forced out before he unblocked me, but, alas, a victory is a victory. Hear, hear the 1st Amendment! #TrumpResign

— Lesley Abravanel (@lesleyabravanel) August 29, 2018
NEW — important update to this — thanks to @KatieFallow and @knightcolumbia, I've been officially UNBLOCKED by @realDonaldTrump after 14 months

did I miss anything https://t.co/RI4PdyFl60

— J.D. Durkin (@jiveDurkey) August 28, 2018
Hey @realDonaldTrump Thanks for unblocking me. I can now tell you what I think, so shape up!!

— Jon B. "Globalist" Wolfsthal (@JBWolfsthal) August 28, 2018
Rosie O'Donnell, though? Rosie's still blocked.
still blocked pic.twitter.com/EdFDPElvRi

— ROSIE (@Rosie) August 29, 2018