If Donald Trump Fires Robert Mueller, We Must Be Prepared to Organize a Rapid Response
Photo by Win McNamee/Getty
Politics
Features
Donald Trump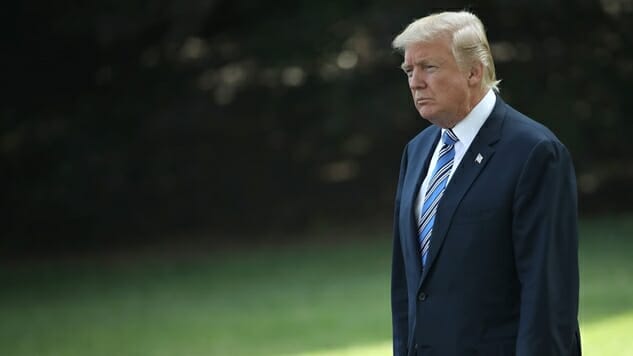 White House Press Secretary Sarah Huckabee Sanders said that the White House had no plans or intentions to fire special counsel Robert Mueller in the wake of three indictments handed out to Trump campaign staffers yesterday (technically two, George Papadopoulos was arrested three months ago and it was just announced yesterday). However, it's clear that no one speaks for the president except for Donald Trump, and he has provided very little assurances that he won't fire Robert Mueller. He's made separate prepared statements saying that he will respect and comply with the investigation (because this is the strategy that Ty Cobb and the rest of his legal team have adopted), but we all know that the real Trump lives on Twitter—and his constant tirades over a "witch hunt" and "fake news" suggest that the thought of firing Bob Mueller is at least in the back of his mind. Today's especially incoherent tweets paint a picture of a man coming apart at the seams.
The biggest story yesterday, the one that has the Dems in a dither, is Podesta running from his firm. What he know about Crooked Dems is….

— Donald J. Trump (@realDonaldTrump) October 31, 2017
….earth shattering. He and his brother could Drain The Swamp, which would be yet another campaign promise fulfilled. Fake News weak!

— Donald J. Trump (@realDonaldTrump) October 31, 2017
If he does fire Mueller, it's a serious question as to whether the Republican Party will hold Trump accountable for his authoritarianism. Paul Ryan either can't read or doesn't read anything pertaining to this administration, and his answer whenever any major news breaks about Trump is that he is unaware of it happening. The rest of congressional Republicans have followed suit, as most of their job consists of running away from reporters now. They don't care about democracy, just their agenda. We need to make sure that they know democracy still cares about them, and if Trump gets rid of an investigation that is just now beginning to bear serious fruit, congressional Republicans will pay if they do nothing.
And that's where the Mueller Firing Rapid Response from MoveOn.org comes in. Click on that hyperlink and you will see "Nobody is Above the Law" rallies planned for 48 states, Puerto Rico and Washington D.C. Find a rally planned in a city near you, click on it, sign up, and you'll know exactly when and where to go if Trump fires Mueller. If you don't see a city near you, click on "Create an event in your area!" This is a genuine possibility with supremely grave consequences, so a swift reaction is necessary to communicate to our congressmen that their jobs are on the line. Congress must understand that if they travel down this authoritarian path, we will use what's left of our democracy to punish them.
Jacob Weindling is a staff writer for Paste politics. Follow him on Twitter at @Jakeweindling.