Sarah Huckabee Sanders Not Committing to the Olympics Demonstrates How Crazy You Have to Act to Work for Trump
Photo by Win McNamee/Getty
Politics
Features
Donald Trump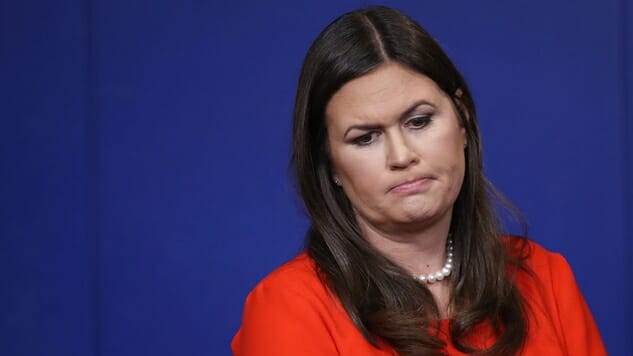 During her press briefing today, White House Press Secretary Sarah Huckabee Sanders refused to commit to something that didn't even seem like it was in doubt.
Wow.
Sarah Huckabee Sanders, asked just now if the United States will definitely participate in the 2018 Winter Olympics in Pyeongchang, South Korea:
"No official decision has been made on that."

— Andrew Siciliano (@AndrewSiciliano) December 7, 2017
Initially, this looks like a gotcha question. The International Olympic Committee suspended Russia from the 2018 Olympics yesterday, and some rightfully have recoiled at the thought of tying the United States up in a mess that has nothing to do with international politics. However, this question was asked in response to our ambassador to the United Nations, Nikki Haley, saying on Fox News that it was an "open question" as to whether the United States would send its athletes to South Korea in 2018. The correct answer to this is an unequivocal yes, unless we're declaring war on North Korea. Given that's not the case (for now), the confusion stemming from Sarah Huckabee Sanders' and Nikki Haley's noncommittal answers is more than understandable.
However, I have a theory that I believe explains both their trepidation: Donald Trump is such a disorganized manchild who doesn't have the ability to hold two competing thoughts in his head at the same time, that everyone working for him is terrified to get out in front of his answers. Sure, in a normal world, it should be a no-brainer to say that the United States will send its athletes to the Olympics—just like we do every two years. But we don't live in a normal world, and people like Haley and Sanders are terrified of saying one thing, only to watch their orange overlord come out and say the exact opposite. This is the lesson Trump's underlings learned from the James Comey ordeal.
The problem is that even though this strategy makes sense in the context of avoiding being publicly repudiated by their boss, it creates an impression that no one in the White House has any idea what is really going on. After a firestorm of confusion erupted after Sanders' noncommittal answer, she took to Twitter to clarify.
UPDATE: The U.S. looks forward to participating in the Winter Olympics in South Korea. The protection of Americans is our top priority and we are engaged with the South Koreans and other partner nations to secure the venues.

— Sarah Sanders (@PressSec) December 7, 2017
Given that she framed it as an "update," my bet is she talked to Dear Leader Donald right after the briefing. This is further proof that the White House communications office cannot and will not speak on behalf of the president they are hired to represent. They are only there to repeat his commands.
Jacob Weindling is a staff writer for Paste politics. Follow him on Twitter at @Jakeweindling.