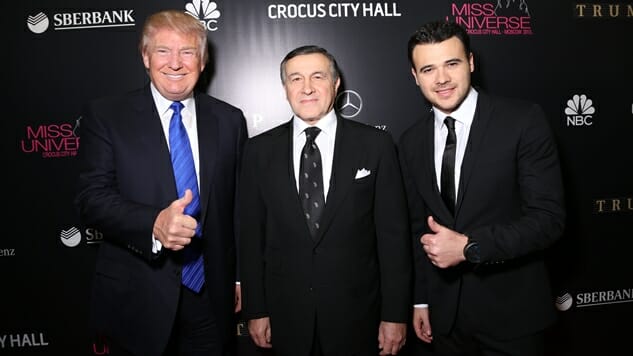 Lately it seems like we get a bombshell about shady deals involving someone near Trump's inner circle every day, and there are so many potential scandals that we can't help but become a bit inured to them. Today's ordeal is brought to you by The Guardian:
In 2010, a small group of businessmen including a wealthy Russian supporter of Vladimir Putin began working on plans to build a glitzy hotel and entertainment complex with Donald Trump in Riga, the capital of Latvia.
A senior Trump executive visited the city to scout for locations. Trump and his daughter Ivanka spent hours at Trump Tower with the Russian, Igor Krutoy, who also knows compatriots involved in arranging a fateful meeting at the same building during the 2016 US election campaign.
Then the Latvian government's anti-corruption bureau began asking questions.
The Guardian has learned that talks with Trump's company were abandoned after Krutoy and another of the businessmen were questioned by Latvian authorities as part of a major criminal inquiry there – and that the FBI later looked into Trump's interactions with them at Latvia's request.
For the "FAKE NEWS!!" crowd: Donald Trump Jr. confirmed in 2012 that "we were talking" and "nothing went forward, but it's an area that we are interested in." Latvia's authorities asked the United States for assistance after doing their own inquiry, and the U.S. complied a year later. The reason this news is significant (other than the obvious) is that it confirms that the FBI looked into the president's interests in the former Soviet Union earlier than we had previously known.
Additionally, Igor Krutoy is a famous Russian composer who has written music for Emin Agalarov—the son of Aras—a wealthy Putin ally who hosted Trump's 2013 Miss Universe Contest (and the man in the middle of the photo at the top of this story). Emin named Krutoy as one of his closest friends in music (Krutoy said he considers the Agalarovs acquaintances, not friends). Emin also made a music video with Donald Trump.
Emin Agalarov is a connection who already carries a hefty amount of baggage thanks to his father (and the myriad Kremlin connections which arise thanks to his father's empire and Emin's fame), and this report casts further doubt on the true nature of the relationship between Trump and the family of a Putin ally. Adding to these six-degrees of Kevin Bacon-esque connections, Krutoy is close friends with Rinat Akhmetov—a Ukranian steel tycoon who hired Paul Manafort in 2005. That same Paul Manafort whom Robert Mueller alleges was in contact with Russian military intelligence while running the Trump campaign.
This failed deal in Latvia was centered around another shady figure in the former Soviet Union—Ainars Šlesers—a Latvian businessman and former deputy prime minister—who was accused of using his public office for personal influence. Per The Guardian:
At the heart of the Latvian inquiry were secret recordings of meetings involving suspects at a hotel in Riga. According to leaked transcripts published by the magazine IR, Šlesers was heard telling a potential investor in February 2011 that he had "an agreement with Trump" after meeting him in New York, and that they were "ready to make the Trump Plaza Riga". Šlesers did not respond to a request for comment by IR.
Apparently keen to chase down this line of inquiry, Latvia made an official request for judicial assistance from the US in February 2014. The interest from Latvian authorities in Trump was first reported last year by Neatkariga Rita Avize of Riga.
By the time the FBI got around to responding to Latvia's request, the Latvian authorities were winding down their investigation, but Andrejs Judins, a Latvian Unity party MP is frustrated with this decision, saying, "I think there was enough evidence for the prosecutor to continue this case. But he said no."
Jacob Weindling is a staff writer for Paste politics. Follow him on Twitter at @Jakeweindling.