President Trump Continues to Fail American Farmers, Bails out Corrupt Brazilian Company Instead
Photo via Scott Olson/Getty
Politics
News
Donald Trump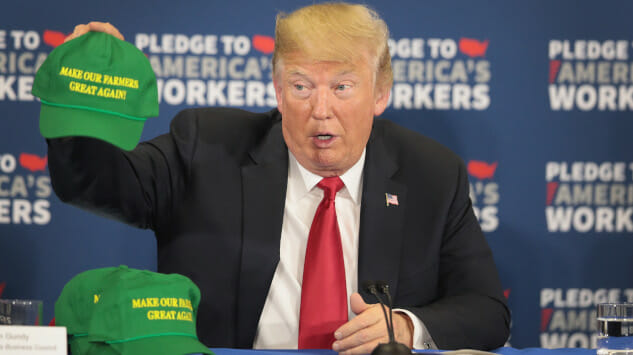 The Trump administration has bailed out a massive meatpacking company using $62 million in taxpayer money over the past few months, according to a report from the New York Daily News.
The cash was initially promised to support American farmers struggling amid the trade war between China and America, prompting confusion and rage that the money would instead go to JBS USA, a U.S.-based subsidiary of the largest meatpacking corporation in the world, JBS SA. How, exactly, this bailout will support American farmers remains unclear.
In the face of the Trump administration's continued failures to resolve the trade war with China, repeated pledges have been made to support American farmers. The trade war directly affects American farmers, as it has resulted in levies on American exports. With trade talks still in shambles, continued monetary aid will be a necessity for American farmers who, often operating at a loss, rely on governmental subsidies to support their high costs of agricultural equipment, labor and crops.
Amid all of this is the revelation that JBS SA's exports to China have skyrocketed during the escalating trade war between the U.S. and China; JBS SA's output to China rose to over 24% in 2018, with industry officials noting that the company "does not seem to be hurting."
More fuel for frustration: The two owners of JBS are admitted criminals, having notably bribed hundreds of officials in Brazil.
Farm trade group R-CALF issued a statement to the Trump administration back in 2017, calling on the government to investigate JBS' potentially illicit behaviors. Neither JBS nor the Trump administration commented on the Daily News' report, although President Trump maintains via his tweets that he will support American farmers.
Read more about our thoughts on Trump's trade war with China here and how the tariffs are affecting farmers here.