Trump Once Had the Opportunity to Buy the Dallas Cowboys for Dirt Cheap and Called it a "No-Win Situation"
Photo by Braden Camp/Getty
Politics
News
Donald Trump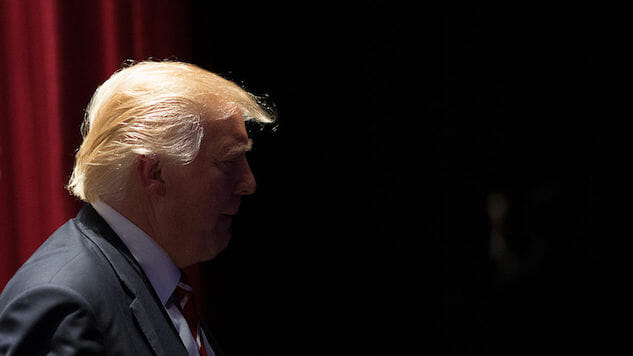 In 1984, Trump had the opportunity to buy the Dallas Cowboys for dirt cheap, but claimed it was a "no-win situation." The Dallas Cowboys are now the most valuable sports franchise in the world, in a stunning indictment of Trump's "businessman" campaign pitch.
In a 1984 interview with The New York Times, Trump was a young, but equally arrogant, businessman at only 37. He had just opened Trump Tower in 1983, but would soon be sued by undocumented Polish workers who demolished the previous building for only $4 a day. Trump would eventually pay out over $1 million to settle the case. However, in 1984, he was still beaming about the shiny new Trump Tower with his name stamped on the front.
Still riding his real estate high, Trump sat down with The Times and spoke about his newest investment: The New Jersey Generals of the now-defunct United States Football League. Trump had toyed with the idea of buying an NFL team such as the Cowboys for $50 million—yes, you read that number right. Instead, Trump bought the USFL team for an estimated $8 or $9 million, and belittled the Cowboys in the process:
I could have bought an NFL team. There were three or four available—that still are available, including, of course, the Dallas Cowboys. I could have bought an NFL club for $40 million or $50 million, but it's established and you would just see it move laterally. Not enough to create there.
He went on to say:
I feel sorry for the poor guy who is going to buy the Dallas Cowboys. It's a no-win situation for him, because if he wins, well, so what, they've won through the years, and if he loses, which seems likely because they're having troubles, he'll be known to the world as a loser.
Trump went on to describe his transition from a sports-playing schoolboy to a New York businessman who, at first, wasn't interested in buying a team because "everyone knows sports is a bad business and no one goes into it to make money." However, in true Trump fashion, he craved attention and eventually chose to buy the Generals for publicity reasons. He said, '"I hire a general manager to help run a billion-dollar business and there's a squib in the papers. I hire a coach for a football team and there are 60 and 70 reporters calling to interview me."' There were newspapers calling to interview him, including The Times, but Trump's sports publicity and success was short-lived.
Much like Trump's current political tactics, he wanted his league to be the absolute best. Instead, he ended up killing the USFL after waging war on the firmly established NFL. Trump urged his fellow USFL owners to move the league's season from spring to fall in hopes to merge with the NFL. However, this move broke the league's ABC contract and cost them their financial support, so instead of playing in the fall, the USFL sued the NFL for antitrust and won the case. They received a whopping total of three dollars in damages and Trump, being Trump, jumped ship and began calling for the dissolution of the league. The USFL died in 1985.
Meanwhile, Trump's "no-win situation," the Dallas Cowboys, skyrocketed into success. Jerry Jones bought the team in 1989 for $140 million and they went on to win three Super Bowls in the following six seasons. As of 2018, the Dallas Cowboys are valued at $4.8 billion and they have the highest revenue of any NFL franchise at $840 million, with earnings of $350 million. The team has remained the most valuable sports franchise in the world for the past three years, with Manchester United in second. The Cowboys are worth around $700 million more than Manchester United, who are valued at $4.12 billion.
Trump has carried his grudge against the NFL ever since. During his first term as president, he has continued waging his war against the league. Trump has spent his time in the White House battling with the league over NFL players peacefully protesting police brutality and racial inequality in the U.S. by kneeling during the national anthem.
At least 24 players kneeling this weekend at NFL stadiums that are now having a very hard time filling up. The American public is fed up with the disrespect the NFL is paying to our Country, our Flag and our National Anthem. Weak and out of control!

— Donald J. Trump (@realDonaldTrump) November 28, 2017
Trump's war against the NFL began with a bad business decision in 1984 when he lost his team and an entire league. He was also rebuked from buying the Buffalo Bills. If there's one thing we know about Trump, it's that he hates losing as much as a spoiled brat ever could. In the 2016 election, he admitted, "I like money. I'm very greedy. I'm a greedy person," and he ultimately lost money because of the NFL. So he went on to run his 2016 presidential campaign on the promise that he would run America like his business.
Trump kept his promise and is running America like his business, and his business plan is clear: Brag about your investment but jump ship as soon as you're threatened by a stronger force, such as the NFL. Unfortunately for America, Russia is our most recent threat and Trump, predictably, is looking for the lifeboats. How's that for a no-win situation?