Trump Actually Altered a Hurricane Map to Back up His Dumb Claim That It Would Hit Alabama
Photo by Chip Somodevilla/Getty
Politics
Features
Donald Trump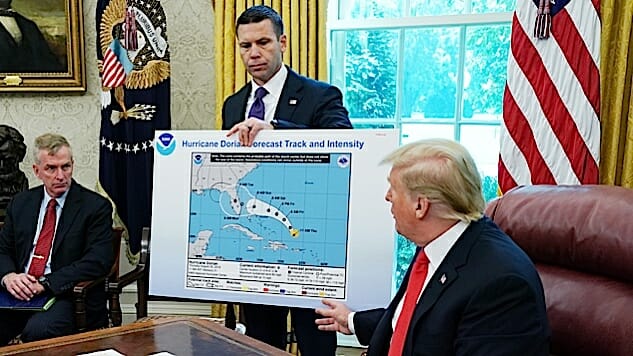 As with many of our dumbest Trump stories, this one has several layers, and so the first thing you have to know is that for reasons known only to him, our president tweeted out some incorrect information on Sunday—namely, that Hurricane Dorian would strike Alabama:
In addition to Florida – South Carolina, North Carolina, Georgia, and Alabama, will most likely be hit (much) harder than anticipated. Looking like one of the largest hurricanes ever. Already category 5. BE CAREFUL! GOD BLESS EVERYONE!

— Donald J. Trump (@realDonaldTrump) September 1, 2019
That wasn't true, and a meteorologist from the state refuted it quickly:
Alabama will not be impacted by Dorian in any way. https://t.co/QKq10l6SXA

— James Spann (@spann) September 1, 2019
The National Weather Service quickly backed him up:
Alabama will NOT see any impacts from #Dorian. We repeat, no impacts from Hurricane #Dorian will be felt across Alabama. The system will remain too far east. #alwx

— NWS Birmingham (@NWSBirmingham) September 1, 2019
As the day went on, Trump continued to claim that the storm would hit Alabama:
Alabama is going to get a piece of it, it looks like.
and:
He said Dorian "may get a little piece of a great place: It's called Alabama."
Of course, this is more than just a misspeak, since the actual president warning Alabamans of danger has far-reaching effects, but it seemed like the real scientists had nipped things in the bud.
It became a bigger story on Monday, though, when "World News Tonight" said the president had "misstated the storm's possible trajectory," at which point Trump did the sensible thing and…oh wait, no. No he didn't. He doubled down:
Such a phony hurricane report by lightweight reporter @jonkarl of @ABCWorldNews. I suggested yesterday at FEMA that, along with Florida, Georgia, South Carolina and North Carolina, even Alabama could possibly come into play, which WAS true. They made a big deal about this…

— Donald J. Trump (@realDonaldTrump) September 2, 2019
….when in fact, under certain original scenarios, it was in fact correct that Alabama could have received some "hurt." Always good to be prepared! But the Fake News is only interested in demeaning and belittling. Didn't play my whole sentence or statement. Bad people!

— Donald J. Trump (@realDonaldTrump) September 2, 2019
So, the new claim was that "under original scenarios" Alabama was in the path. Which brings us to this afternoon, and a short video tweeted out by the White House account in which Trump goes into detail on that original trajectory:
President @realDonaldTrump gives an update on Hurricane #Dorian: pic.twitter.com/CmxAXHY5AO

— The White House (@WhiteHouse) September 4, 2019
Trump talked about how "other states" could have been affected before the hurricane took a "right turn," but let's take a closer look at that image of the potential path: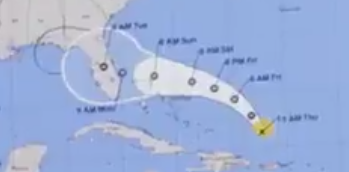 You'll notice there's a path outlined in white, which stops well short of the Alabama border…but then there's another bubble, in black, extending from that white bubble, and it actually encompasses part of southeast Alabama near the gulf coast. Where does that black bubble come from?
The answer, it seems, is that Trump or someone close to him actually drew it on in order to validate his earlier nonsense about where the hurricane was heading.
The President of the United States altered a National Hurricane Center map with a sharpie to falsely extend the official forecast toward Alabama so he didn't have to admit he was wrong in a tweet. https://t.co/i0CJcYV4yqpic.twitter.com/pR57IL6WfT

— Dennis Mersereau (@wxdam) September 4, 2019
That is absolutely outrageous—our president, in order to protect his ego and because he hates admitting he's wrong, actually changed or had someone else change a hurricane map to prove some idiotic point that he was wrong about from the beginning.
This is truly the work of a petulant child, and almost three years into his presidency, we remain flabbergasted by the thin-skinned vanity this man routinely displays.