Trump Now Says Kavanaugh Allegations Were a "Hoax Set Up By the Democrats"
Photos by Tasos Katopodis/Getty
Politics
News
Donald Trump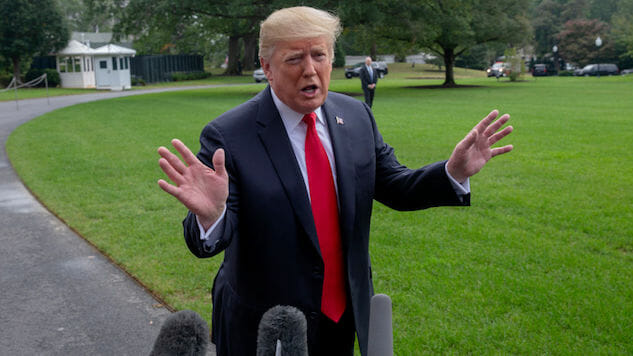 Speaking with reporters on Monday, Trump claimed that the sexual assault allegations made against Supreme Court Justice Brett Kavanaugh were a "hoax" created by Democrats, per the BBC. Trump's uninformed response is insulting on so, so many levels.
He tells reporters, "There was no corroboration of any kind." Yet Trump himself was calling the shots on Kavanaugh's shoddy FBI investigation. He is directly responsible for what he believes is a lack of evidence, as several witnesses and potential corroborators, including Dr. Christine Blasey Ford herself, came forward, literally asking to be interviewed by the FBI, only to be ignored.
Yet Trump dodges blame by refusing to acknowledge his part in the investigation. Instead, he decides to push an actually uncorroborated theory that the Democrats cooked up all the allegations. "The American public has seen this charade, has seen this dishonesty from the Democrats," Trump says after shushing reporters. So, in one fell swoop, he discredits women as credible sources and claims Democrats are using sexual assault as a political ploy.
While another alleged perpetrator of sexual assault fails his way upward, Dr. Ford is unable to return to her own home. The BBC reports that she's received numerous death threats as a result of her testimony.
The Commander-in-Chief is subscribing to and selling conspiracy theories in a clear misuse of his power. It's an unfortunate trend with Trump. He's either a fool, a villain or both.
President Trump: "I think a lot of Democrats are going to be voting Republican on Nov. 6." https://t.co/FmYu051gmOpic.twitter.com/bPConoWrAV

— The Hill (@thehill) October 8, 2018