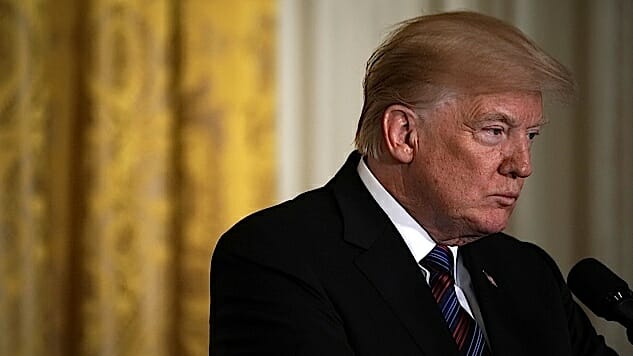 The White House flag will fly at half-staff for the rest of the week in honor of Sen. John McCain, who passed away this past weekend after a battle with brain cancer. It's an obvious move, and in fact it's standard with figures like McCain for the flag to be lowered until internment, but reports indicate that Trump really, really didn't want to do it. In fact, the flag was raised back to normal height on Sunday, and Trump had to be convinced to lower it again. The first graf of this story from Talking Points Memo says so much:
While he eventually agreed to lower the White House flag in honor of Sen. John McCain's (R-AZ) passing again on Monday — after receiving criticism from veterans for only leaving the flag at half staff for the weekend — President Donald Trump was resistant to the gesture because he thought McCain's death was getting too much news coverage.
The Wall Street Journal did the bulk of the reporting on this, and according to their sources, Trump thought the McCain coverage was "over-the-top and more befitting a president." Not his exact words, probably, and we shudder to think what those words might be.
It seems that Sarah Huckabee Sanders played a leading role in convincing him to raise the flags yet again. In typical Trump fashion, he then acted like the whole thing was his idea. Here's the statement that came out Monday afternoon:
"Despite our differences on policy and politics, I respect Sen. John McCain's service to our country and, in his honor, have signed a proclamation to fly the flag of the United States at half-staff until the day of his interment."
Trump and McCain were bitter rivals in the first years of his presidency, of course, and there was no love lost between them—McCain specifically said before his death that he didn't want the president at his funeral. Still, Trump's initial refusal to even acknowledge the death was remarkably petty. Per The Times:
The president stubbornly refused repeated requests from officials as senior as Vice President Mike Pence and John F. Kelly, the White House chief of staff, to acknowledge Mr. McCain's death with a formal and unifying statement, according to four administration officials who spoke on condition of anonymity to describe private conversations.
It took pressure from his staff, the public, and even the American Legion to break his silence and see the flag lowered.