Trump Whistleblower's Report Kept Under Wraps, Congress Kept in the Dark
Photo by Win McNamee/Getty
Politics
News
Donald Trump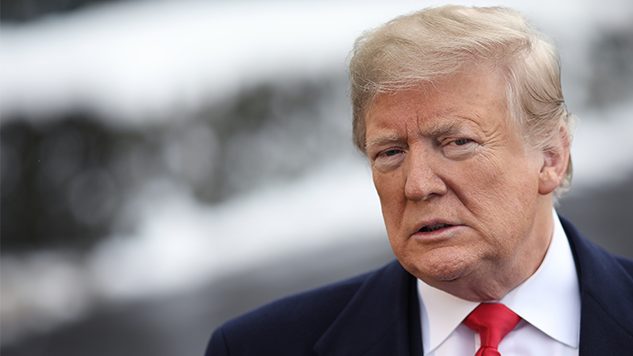 It's been reported (per Axios) that Donald Trump was allegedly communicating with a foreign leader and made some kind of "promise" that was meant to stay quiet. Yet a whistleblower drew attention to it, and now members of Congress are raising their voices and calling for an investigation of the situation and Trump. The problem? The evidence for such a case is being barred from them.
This intel chaos began when a whistleblower filed a complaint on Aug. 12 with Intelligence Community Inspector General Michael Atkinson. Since then, the acting director of National Intelligence, Joseph Maguire (and Atkinson's superior), has refused to hand the complaint to Congress. This action has been called "unprecedented" by California Senator Adam Schiff, mostly because Maguire is usually required to do so by law.
Schiff, a Democratic representative who serves as the House Intelligence Chairman, expanded by saying:
The whole point of the whistleblower statute is not only to encourage those to report problems, abuses, violations of laws, but also to have a legal mechanism to do so and not to disclose classified information—because there's no other remedy. That whole purpose is being frustrated here because the director of national intelligence has made the unprecedented decision not to share the complaint with Congress.
This means Congress knows just as much as the public does, but they can't operate off rumors and headlines. Schiff himself is so in the dark that he doesn't even know if the press speculation circulating about the Trump conversation is accurate or not.
The Inspector General found a whistleblower complaint alleging serious misconduct to be not only credible, but urgent.

Yet the Acting DNI has withheld that complaint from Congress on the basis of potential privilege. He's wrong.

There's no privilege to be corrupt. pic.twitter.com/80US0rdSJv

— Adam Schiff (@RepAdamSchiff) September 20, 2019
There are a few candidates to whom Trump could have made this alleged promise. White House records show Trump interacted with five foreign leaders in the five weeks preceding the complaint, including Russian President Vladimir Putin, North Korean dictator Kim Jong-un, Pakistan Prime Minister Imran Khan, Netherlands Prime Minister Mark Rutte and Qatar Emir Sheikh Tamin bin Hamad Al Thani. Of course, it could be that none of them are involved, but there's no way to cross names off.
There have also been reports that the complaint concerns Ukraine, but when the whistleblower's attorney, Andrew Bakaj, was asked about this by CNN, he had no comment.
Inspector General Michael Atkinson told the House Intelligence Committee he is not authorized to provide the whistleblower's report as decided by Maguire, but he doesn't agree with the decision. He's also stated that there were "a sequence of events … and alleged actions" that took place, which makes the lack of clarification even more dizzying.
Schiff released letters on Thursday in which Atkinson explained he'd reached an "impasse" with Maguire over his decision to keep the information from Congress. Schiff also stated the Department of Justice was involved in the decision to withhold the complaint, so Maguire is not acting alone. Maguire is set to testify in open session before the House Intelligence Committee next week under threat of subpoena.
Schiff is set to consult with the House General Counsel to determine next steps. One possibility could be to take the Trump administration to court in order to obtain the whistleblower's complaint.
In a moment of bitter irony, so far, all we have for sure is Trump spouting off on Twitter about what he apparently didn't say:
Another Fake News story out there – It never ends! Virtually anytime I speak on the phone to a foreign leader, I understand that there may be many people listening from various U.S. agencies, not to mention those from the other country itself. No problem!

— Donald J. Trump (@realDonaldTrump) September 19, 2019
….Knowing all of this, is anybody dumb enough to believe that I would say something inappropriate with a foreign leader while on such a potentially "heavily populated" call. I would only do what is right anyway, and only do good for the USA!

— Donald J. Trump (@realDonaldTrump) September 19, 2019
It's strange to see lawmakers following headlines like a game of telephone and in stubborn deadlocks like children, but this administration has led to many bizarre situations. The accusations have more abrasions rising between Trump and Congress in what's been a friction-filled relationship throughout his entire presidency. With Maguire's testimony set for next week, we'll have to see if the Democrat-controlled House makes any headway through this informational standstill.