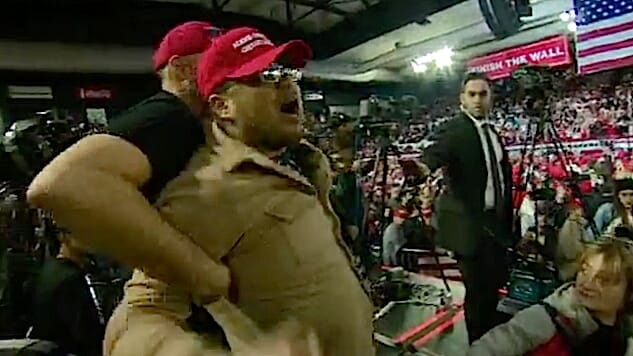 At a Trump rally Monday night in El Paso, TX, a BBC cameraman named Ron Skeans was "violently shoved" by an irate Trump supporter who climbed onto a media platform and repeatedly screamed "f* the media" as he was restrained. The Guardian has the details:
The BBC's Washington correspondent Gary O'Donoghue said his colleague Ron Skeans was "fine" despite the "incredibly violent attack".
Footage from Skeans' camera, tweeted by O'Donoghue, suggested he and his equipment were knocked off balance for around 10 seconds, as he was filming Trump's speech. Skeans recovered to film a man in a red Make America Great Again cap being restrained….
As he was led away some in the crowd at the rally could be heard chanting: "Let him go."
You can watch Skeans' footage here:
'F* the media!' – this is the moment a BBC cameraman was attacked by an angry Trump supporter at a rally in El Paso https://t.co/M3Ort3I95apic.twitter.com/xtTyw21jL3

— Newsweek (@Newsweek) February 12, 2019
The man was removed by security, and Trump reportedly "checked" with the crew to make sure everything was okay. Regardless, it's clearly Trump's anti-media invective—"enemy of the people" and etc.—that inspires these attacks in the first place. Last summer, UN experts even released a report warning that this tactic posed a grave danger to journalists in America. As USA Today reports, the El Paso rally was no exception in Trump's endless verbal campaign against the press:
Less than five minutes into his speech on Monday, Trump touted his popularity "despite the fact that the media refuses to acknowledge what we've done and how well we're doing it."
The line drew a chorus of boos from the crowd.
"I guess 93 percent of the stories are negative. No matter what we do they figure out a way to make it bad," he said to an angrier round of boos.