Former DNC Chair Donna Brazile Joins Fox News as Paid Contributor
Photo by Kamil Krzaczynski/Getty
Politics
News
Donna Brazile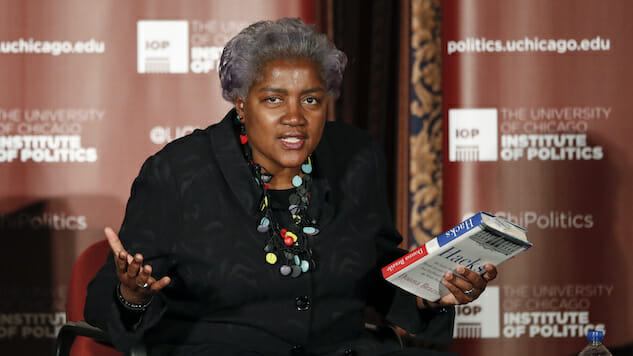 Former Democratic National Committee chairwoman Donna Brazile has joined Fox News Channel as a paid contributor. Brazile announced the news in an op-ed on the television network's website Monday, writing, "I am excited by the opportunity to share my perspective and views with the Fox News audience and to help shape the dialogue at this important juncture in our history."
Fox News has a history of hiring liberal contributors as props to stimulate debate (read: ratings). Perhaps most notably, they hired ex-Clinton strategist and career pundit James Carville as a contributor in 2014. However, they've slowed the practice in recent years as they've completed their transition from zealous GOP partisans to a bona fide propaganda machine for the Trump administration.
Brazile has served in several prominent positions in the Democratic party, including campaign manager for Al Gore when he ran for president in 2000. She was fired from her role as contributor at CNN in 2016 after leaking a question from a Democratic primary town hall to the Hillary Clinton campaign. Brazile has since written a memoir about her experience with the Clinton campaign titled Hacks: The Inside Story of the Break-ins and Breakdowns That Put Donald Trump in the White House.
In her announcement on the Fox website, Brazile admits to making mistakes in her career but says that her values and principles remain intact. "Will I agree with my fellow commentators at Fox News? Probably not. But I will listen," she said. Brazile begins her tenure at Fox News on Monday with an appearance on Dana Perino's afternoon news show.