Reporter Violently Arrested While Filming Ed Gillespie's Campaign Vehicle
Photo by Sara D. Davis/Getty
Politics
News
Ed Gillespie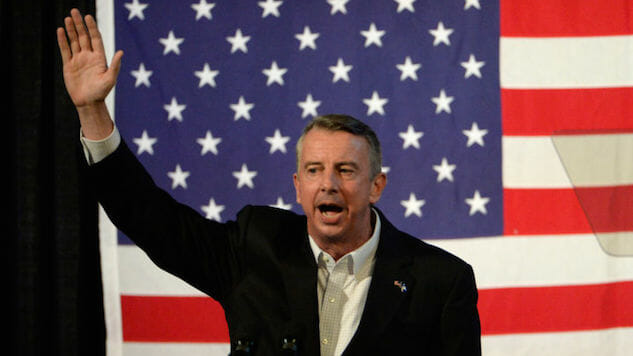 Shareblue Media reporter Mike Stark has been trying to ask Republican Ed Gillespie the hard questions for weeks now. Shareblue reports that Gillespie, a gubernatorial candidate for Virginia, has leaned on a racist white nationalist voter base more and more over the course of his campaign. But when Stark has asked Gillespie to address it, Gillespie has ducked the question time and again.
The issue came to a head this past Saturday, when Stark filmed Gillespie's campaign vehicle during a parade in Annandale. A woman alerted police officers that he was doing so, and the officers proceeded to give Stark a hard time. Shareblue shared video footage from the encounter that shows Stark being aggressively told by an officer to stand on the sidewalk. Stark argues for a while, then gives up and says "fuck this," and that's when the officers grab him. More officers converge on the incident, which gets needlessly violent—Stark clearly isn't resisting, yet the officers pin him against a wall, then sweep his legs out from under him, using their body weight to press him to the ground.
Stark was arrested on charges of disorderly conduct and resisting arrest, and was released hours later on a $3,000 bond. Shareblue reports that he seems to have gone straight to another Gillespie event afterwards, where he tried to again question the candidate about his troubling campaign. Stark found his car's tire had been punctured when he left.
Thankfully, Gillespie is currently losing by an increasingly wide margin in polls to his opponent, Ralph Northam.
Find Shareblue's video of Stark's arrest here.