Teen Vogue Ran a Piece About Facebook Helping to Safeguard the 2020 Election. It was Actually an Ad, and Now It's Gone
Photo by Jerod Harris/Getty
Politics
News
Facebook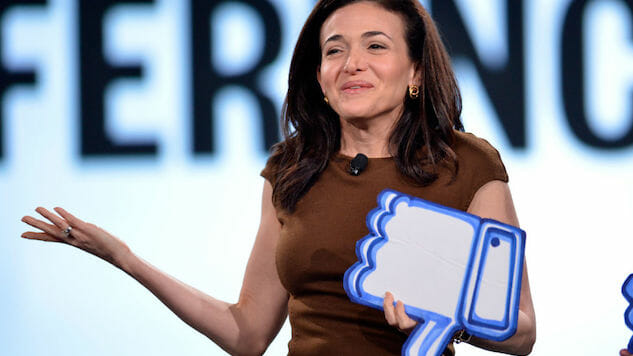 Teen Vogue has done a lot to bolster its journalistic integrity over the past few years. They've combatted the trope that young people are only interested in pop-culture trends and fashion. The publication now covers politics, worker's rights, identity and cultural issues—and, apparently, also hosts branded content.
On Wednesday, an unabashedly positive write-up on Facebook's efforts to ensure that misinformation is combatted during 2020 election cycle appeared on Teen Vogue's site. There was no byline, but the article was formatted as a Q&A with five women who work at Facebook and supposedly work to ensure that propaganda doesn't go unchecked.
Sheryl Sandberg, the COO of Facebook, shared the piece on her own feed, saying: "Great Teen Vogue piece about five incredible women protecting elections on Facebook." She also added that Facebook has "worked to stop the spread of misinformation." Her Facebook post has since been deleted.
Facebook COO Sheryl Sandberg also shared the (now-deleted) Teen Vogue story: https://t.co/a99Kj5O5XVpic.twitter.com/oblTHeUPrh

— Rob Price (@robaeprice) January 8, 2020
Eventually, an italicized notice was affixed to the Teen Vogue piece: "Editor's note: This is sponsored editorial content." After confusion was expressed on social media, the piece vanished altogether.
The irony of Facebook attempting to appear genuine while feeling the need to buy positive press isn't lost on anyone. And Teen Vogue trying to be discreet about the fact that they published sponsored content ultimately ended up causing a bigger stink than if they had just been upfront about the nature of the piece.
"We made a series of errors labeling this piece, and we apologize for any confusion this may have caused," said a statement from Condé Nast, the publisher of Teen Vogue. "We don't take our audience's trust for granted, and ultimately decided that the piece should be taken down entirely to avoid further confusion."
Facebook eventually admitted in a statement to The Washington Post that they had a paid partnership with Teen Vogue, but not after first insisting that the content was "purely editorial." It's pretty hard to imagine what could have provoked a "purely editorial" fluff piece that refuses to challenge any of the past mishaps involving Facebook and election disinformation.