Facebook Leadership Spread Anti-Semitic Conspiracy Theories to Save Themselves
Photo by Drew Angerer/Getty
Politics
News
Facebook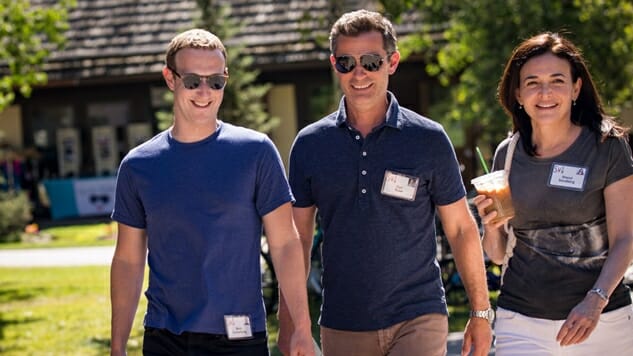 Mark Zuckerberg is Jewish. So is Sheryl Sandberg. As a fellow Jew, I just would like to take this moment to call them traitors to the cause. If you're not aware of what I'm talking about, please read this deep and intricate report by the New York Times. Here's the section that will define Zuckerberg and Sandberg's legacies in many Jews' eyes:
While Mr. Zuckerberg has conducted a public apology tour in the last year, Ms. Sandberg has overseen an aggressive lobbying campaign to combat Facebook's critics, shift public anger toward rival companies and ward off damaging regulation. Facebook employed a Republican opposition-research firm to discredit activist protesters, in part by linking them to the liberal financier George Soros. It also tapped its business relationships, lobbying a Jewish civil rights group to cast some criticism of the company as anti-Semitic.
The report details a company wholly unprepared for the power that they wield, as they bungled topics literally across the globe—ranging from the genocide in Myanmar to the torrent of fake news surrounding Trump's rise to power. Facebook has been asking some folks when they log in if they believe that Facebook is "good for the world," and if your answer is still yes, please read this damning report and see if you still believe that to be the case.
Jacob Weindling is a staff writer for Paste politics. Follow him on Twitter at @Jakeweindling.