Advertisers on Tucker Carlson's Fox News Show Are Abandoning Him, and This Is Democracy
Photo by Phillip Faraone/Getty
Politics
Features
Fox News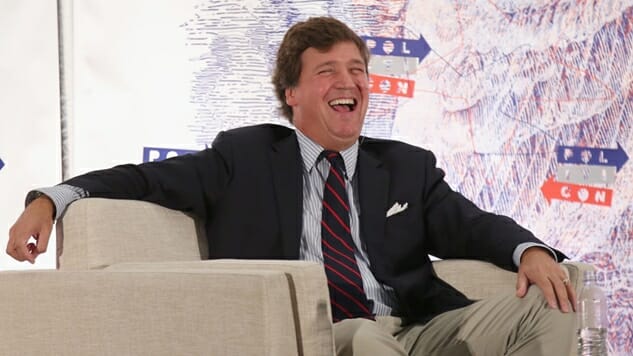 Fox News' Tucker Carlson is a white supremacist. To steal a line from Andrew Gillum: that's not me saying it, that's the white supremacists saying it. This has been known for quite some time, but his nightly fear-mongering has become more prominent as his program has surged in the ratings. Because Carlson gets good ratings, advertisers have flocked to him since that's where the business is. However, that may be changing, and it's thanks to activists like Judd Legum and Jordan Uhl for simply highlighting Carlson's words, and asking his advertisers if they endorse them. This is the segment that kicked off Carlson's split with his advertisers.
Left: Tucker Carlson saying immigrants make America "poorer and dirtier"

Right: The companies that advertise on his show, like @Allstate, @progressive, @CapitalOne, @23andMe, @coravin, @SonyPictures, @AstraZeneca & morepic.twitter.com/ngz5qhUcJf

— jordan (@JordanUhl) December 19, 2018
Advertisers began to leave him en masse, and after last night's show, Carlson's commercial breaks were reminiscent of Bill O'Reilly's just before he left Fox News.
WOW.

This is a complete list of advertisers on Tucker Carlson tonight:@Thryv@Bayer@SoClean@MyPillowUSA
Blue Diamond pans@GetFlexSeal@ClearChoice@pcmatic@wwrcommand

Almost no major national brands. Most breaks filled Fox News promos, PSAs and long My Pillow ads.

— Judd Legum (@JuddLegum) December 21, 2018
Important context:

Tucker usually has five commercial breaks. Tonight, like last night, he only had four.

The ad breaks tonight heavily relied on house ads, PSAs (which don't pick where they run) and Fox mainstays (MyPillow).

Ominously missing: @23andMe, @mitsucars, @Toyota

— jordan (@JordanUhl) December 21, 2018
Today, 23 and Me confirmed that they are "suspending" their advertising on Carlson's show. This saga is unimpeachable proof that Fox News' standard party line is bad for advertisers—only if they are forced to answer for it. If not for the efforts of liberal activists to simply highlight the bigotry espoused by Carlson, all these advertisers would continue to purchase spots on his show.
Bigotry is profitable in America because America is a bigoted country. That we took until this week to pass America's first federal anti-lynching law is proof of our racism. However, outright and unapologetic bigotry of the kind Carlson preaches is not profitable because it brings the worst thing corporate America can imagine right to their doorsteps: controversy. Being controversial is worse than being bigoted because the point of capitalism is to pretend that your business is everything to everyone so as to maximize your profit. Once that profit comes under threat, it doesn't matter what the substance of the controversy is—the only goal for our corporate masters at that point is to get rid of the controversy.
That's why you see some advertisers like 23 and Me saying they are simply "suspending" their advertising on Carlson's show instead of completely pulling it. If they had their druthers, they would continue to push their product on a white supremacist show without anyone making it a big deal. The hope of companies who suspend their advertising—and this has been demonstrated before with Laura Ingraham's bigoted show on Fox News—is to simply hide out and wait for the storm to pass, so they can advertise on Carlson's show again without having to address his outright white supremacy.
The only way we will ever be able to communicate to the Real Owners of America that this kind of garbage is unacceptable is if we keep the pressure up. Activists like Uhl and Legum are vital in this respect, as they are watchdogs who have proven they will call out any brand who dares endorse this bigoted worldview. While pundits like Nate Silver, Glenn Greenwald and Jack Shafer have expressed concern about the slippery slope this kind of scrutiny puts us under, what they miss is that this is one of the few levers of power we can exercise against this rise of white supremacy. Boycotts are effective and the proof of that theory is that the mere threat of a boycott over advertising on Carlson's show forced over twenty major companies to drop their financial support of Carlson's nightly white supremacy. With any luck, Carlson will join the man he replaced, Bill O'Reilly, in the graveyard of radioactive and bigoted TV hosts.
Jacob Weindling is a staff writer for Paste politics. Follow him on Twitter at @Jakeweindling.