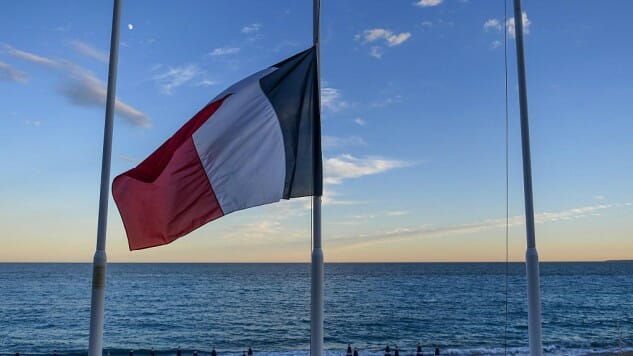 Beginning late this morning in the small southern town of Trebes, France, a gunman, believed to have ties with ISIS, marched into a supermarket and fired at civilians. It appears the attack is linked to an earlier event where a man shot at four police officers from a car and then proceeded to ram the officers as he drove off. Police tracked the car and ended up at the supermarket in Trebes where the gunman was shot dead after taking several hostages and murdering two civilians, according to a report from CNN.
Local media reported a body was found behind the police barracks in Carcassonne, a small town just next to Trebes, and another person found wounded. Apparently, the gunman attacked these two people before stealing their car, which he then used to attack police and transport him to the Trebes supermarket. The attacker was identified as Redouane Lakdim, 26, a petty criminal and small-time drug dealer who was said to be radicalized and under police surveillance, French Interior Minister Gerard Collomb said in a statement. The gunman is confirmed to have been of Moroccan origin.
Witnesses of the attack claim the terrorist yelled "Allahu Akbar!" which roughly translates to "God is Great!" in Arabic after declaring allegiance to the Islamic State. A BFM reporter on the scene also said the attacker demanded the released of Salah Abdeslam, the lone survivor of an ISIS terror cell behind the deadly 2015 attacks in Paris that left 130 people dead, though CNN cannot verify this. Abdeslam is currently on trial in Belgium.
French President Emmanuel Macron describes the incident as a terror attack and said, "Everything leads us to believe that it is indeed a terror attack which is, as I said, still ongoing. The police … intervened in a very coordinated manner after what was first an attack against police officers," Macron said at a press conference alongside German Chancellor Angela Merkel in Brussels today.
France initiated a state of emergency status after the 2015 coordinated Paris attack and 2016 devastating Nice attack, which combined claimed over 200 people's lives. That status, however, was lifted just last year. You can view a list of Tweets detailing the terror attack below from New York Times correspondent and NBC contributor Rukmini Callimachi.
10. Death of the gunman clears way for ISIS to officially claim this attack. (They typically don't claim attacks if the gunman is alive or in custody, though there have been several exceptions of late).

— Rukmini Callimachi (@rcallimachi) March 23, 2018
9. French Interior Minister Gerard Collomb confirms death of attacker. Says he will hold a press conference near site of the attack in Trebes soon: pic.twitter.com/LihIFc3kNo

— Rukmini Callimachi (@rcallimachi) March 23, 2018
8. Attacker has been killed by police, according to @BBCBreaking

— Rukmini Callimachi (@rcallimachi) March 23, 2018
6. French media LCI says the attacker has been identified via the license plate of his car. He is of Moroccan origin and is "known" to the DGSI. Could mean he was on list of radicalized individuals in France (the S list). pic.twitter.com/hDoy73qD30

— Rukmini Callimachi (@rcallimachi) March 23, 2018
4. Authorities including the prime minister are calling this an act of terror: pic.twitter.com/VR1gmWbpuU

— Rukmini Callimachi (@rcallimachi) March 23, 2018
3. Major English Channel for ISIS supporters is making fun of international media for failing to call this an ISIS attack. Quotes ISIS' slogan – baqiya wa tatamaddad or "Remaining and expanding," to say that the terror group is still here and growing: pic.twitter.com/1LB3xqQxuE

— Rukmini Callimachi (@rcallimachi) March 23, 2018
2. Now authorities are saying 2dead and 12 wounded, according to France-Soir. Pro-ISIS channels are celebrating on the app Telegram. pic.twitter.com/MKU7PjmtYJ

— Rukmini Callimachi (@rcallimachi) March 23, 2018