183 Republicans Vote Against Legislation Protecting Those with Pre-Existing Conditions from Higher Healthcare Costs
Photo by Joe Raedle/Getty
Politics
News
Healthcare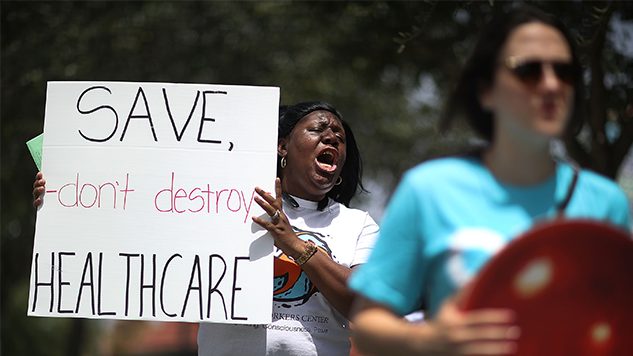 On Thursday, the bill known as the Protecting Americans with Preexisting Conditions Act of 2019 passed in the House primarily along party lines, Think Progress reports. A full 183 Republicans voted against the bill (H.R. 986)—including those who promised last year to protect people with pre-existing conditions—while all House Dems and four Republicans voted in favor of it. Reps. Andy Barr (Ky.), Ted Budd (N.C.), and Scott Perry (Pa.) had all vowed to keep Americans with pre-existing conditions from being burdened with higher healthcare costs. However, they voted against the bill, proving that they were all talk during the 2018 election cycle.
The legislation is designed to keep the Trump administration from giving states the ability to avoid abiding by Obamacare rules, and would especially protect those with pre-existing conditions from increased healthcare costs. The bill, introduced by Reps. Ann Kuster (D-N.H.), Don Beyer (D-Va.) and Joe Courtney (D-Ct.), is not expected to pass the Republican-controlled Senate.
The three Democratic representatives felt compelled to put forth this legislation because in November, the Department of Health and Human Services encouraged states to change their marketplaces in regards to the Affordable Care Act, even if that meant subjecting those with pre-existing conditions to to higher healthcare costs. The Kaiser Family Foundation notes that this move "eliminates the requirement to demonstrate comparable protections for people with high health risks."
Thankfully, no states have yet approached the federal government trying to avoid complying by these rules. The good people over at Think Progress have succinctly explained, though, how such marketplace changes would adversely affect people living with pre-existing conditions:
A state, for example, could ask to subsidize plans that don't cover addiction treatment, a plan that is useless for someone struggling with substance misuse. Healthier people, however, would likely gravitate toward such a cheaper plan. If enough people in perfect health flock to these less comprehensive plans, parallel markets would inevitably form based on risk posed to insurance companies. This means people with pre-existing conditions are left with plans that get increasingly expensive, especially if they don't qualify for tax credits or cost-sharing subsidies.
Do not forget how these representatives voted when we're back at the ballot box. Think about every American with a pre-existing condition when you cast your vote, and the comprehensive coverage they need to live.