For the First Time Ever, a Single-Payer Healthcare Plan Has 100+ Sponsors in Congress
Photo by Sarah Rice/Getty
Politics
News
Healthcare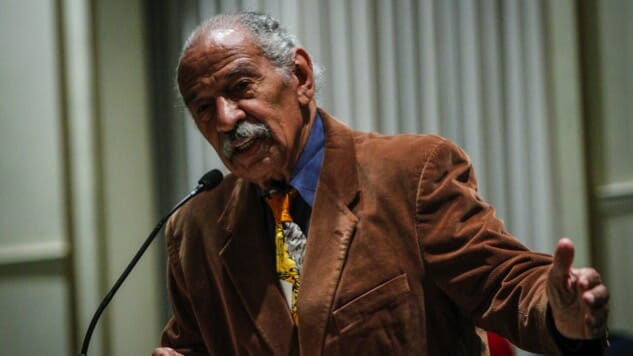 As Republican attempts in the House to repeal and replace the Affordable Care Act have foundered, House Dems have grown more boisterous in suggesting their own ways to fix the 2010 legislation frequently called "Obamacare."
One consistent Democratic fix, from more liberal sectors of the House caucus, has been to adopt a single-payer Medicare-for-All system where people pay the state (through taxes) to cover healthcare costs instead of having to rely on private health insurers.
In the past, when that legislation has been proposed in the House (as it was in 2015), such a proposal has struggled to even gain much Democratic support in the House. At that time, the "United States National Health Care Act" failed to even garner more than 20 percent of congressional co-sponsorship.
But in 2017, as the Affordable Care Act has come into more peril than ever before, the appetite for single-payer amongst Congressional Democrats is growing.
Vox's Jeff Stein points out that a single-payer bill Rep. John Conyers (D-Mich.) has repeatedly put forward now has 107 co-sponsors, which is more than half of the Democratic caucus—a first in the party's history, per Stein.
Such a major shift comes as states such as California are once again considering the move to a single-payer system. While the proposal in the Golden State is seen as a longshot, it does have the support of a nursing union, as well as several Democratic state senators. That signals that this renewed Democratic push for a single-payer fix to the nation's complicated healthcare system isn't just happening in the halls of Congress—it's occurring all throughout the country.