Caving to Trump, Justice Department Will Probe Hillary Clinton's Email Server Yet Again
Photo by Alberto E. Rodriguez/Getty
Politics
News
Hillary Clinton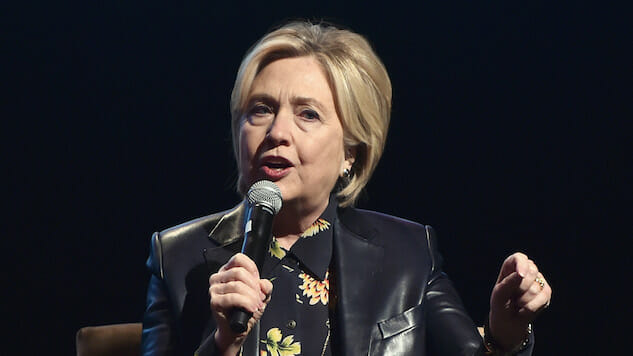 According to The Daily Beast, the Justice Department was instructed by the Trump administration to take a fresh look into Hillary Clinton's emails.
An ally of Attorney General Jeff Sessions reportedly described it as an effort to gather new details on how Clinton and her aides handled classified material. Justice Department officials' questions are said to include: how much classified information was sent over Clinton's server, who put that information into an unclassified environment, which investigators knew about these matters and if Clinton aides made any immunity agreements.
Donald Trump has made his feelings on the Hillary Clinton email scandal abundantly clear, leading chants of "lock her up" at nearly every one of his presidential campaign rallies and directly telling Clinton that she would be put in jail during a heated exchange at one of the 2016 presidential debates.
Despite the Justice Department's independent status from the White House and despite the completed FBI investigation that asserted neither Clinton nor any of her aides should be prosecuted, this administration and other conservatives continue to push for another look into her emails.
Conservatives continue to promote this narrative as it's one of Fox News' favorite and most recurring stories, and the conservative group Judicial Watch even filed a lawsuit against the DOJ, which showed that classified material was on the computer of Huma Abedin's (Clinton's former deputy chief of staff) husband Anthony Weiner. However, sources told The Daily Beast that Justice Department officials were looking into the Clinton emails before those documents were released.
Mark Corallo, a former spokesperson for Trump's legal team and the Justice Department, thinks a fresh look into Clinton's emails is a positive sign.
"People should be encouraged that the new leadership at the Justice Department is actually interested in a nonpartisan, above-board Justice Department that treats every citizen equally," Corallo said. "And we can hope that this means they are dedicating themselves to cleaning up the Justice Department and the FBI, sanctioning any FBI agents or DOJ lawyers who are found to have violated their ethical and legal responsibilities, and restoring the trust of the American people."
Brian Fallon, a former spokesperson for the Justice Department and Clinton's presidential campaign, also gave his thoughts on the matter, particularly in regards to Trump's bullying of the Justice Department. Fallon remarked, "The Justice Department is supposed to operate independently of the White House, and even if this is just a perfunctory step that they're taking to try to appease the president, that in and of itself is an abuse of the DOJ authority."