Border Protection Agency Bars Lawyers from Entering Children's Sick Ward at Detention Centers
Photo by Mario Tama/Getty
Politics
News
ICE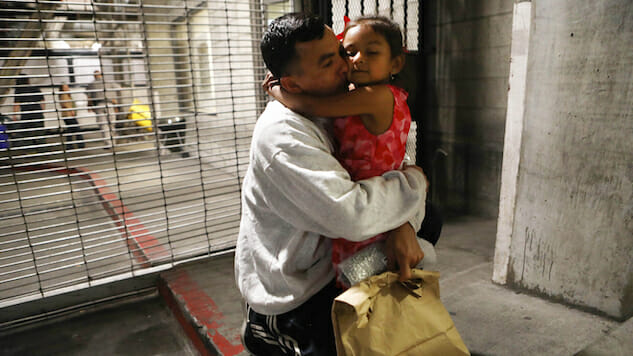 There is no room for semantic debates around this anymore: The immigrant detention centers at the U.S./Mexico border are concentration camps. If you have any doubts—and you shouldn't—this Newsweek report will dispel those.
Per the report, several lawyers from the Human Rights Watch were denied access to a children's sick ward by the U.S. Customs and Border Protection agency. Nicole Austin-Hillery, the U.S. Program Executive Director of the HRW, notes that the CBP's rationale for not letting the lawyers into the area was out of fear for their health.
"We told them, 'We don't care. We're not concerned about catching a cold," Austin-Hillery said.
This news comes after Friday's judicial order that medical officials be granted access to the concentration camps in El Paso and the Rio Grande Valley in order to evaluate the living conditions for children.
Per Newsweek, U.S. District Judge Dolly Gee issued the order after several lawyers "asked for emergency judicial intervention in the Trump administration's treatment of migrant children after they found that the children were being held in 'deplorable' conditions with inadequate access to food, water and basic sanitation."
Gee also gave the Trump administration a July 12 deadline to report on how they've addressed the dire living conditions.
When reflecting on her visit to a different center, Austin-Hillery notes that children didn't have access to bathing. Many were still in the clothes they had been wearing when they arrived at the camps. A breastfeeding mother wasn't given a cot, and had to sleep on the ground.
These are concentration camps. Beyond the massive and important questions of sanitary health, these descriptions raise further questions around mental health—how are the detainees coping with the emotional effects of living in conditions that can only be described as torturous?
Whether the Trump administration cares to address these issues remains to be seen, but we can be nearly certain that they will continue to propagandize about the representation of these concentration camps moving forward.