ICE Tried to Deport a Legal DACA Recipient by Claiming He Was "Gang-Affiliated"
Photo by Spencer Platt/Getty
Politics
News
ICE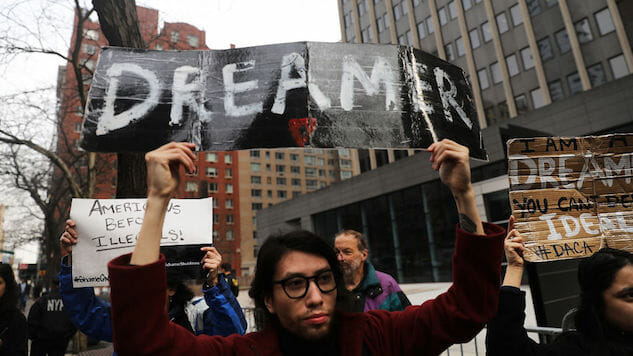 In February of 2017, the U.S. Immigration and Customs detained and attempted to deport Dreamer Daniel Ramirez Medina, falsely claiming he was "gang-affiliated." On Tuesday, federal judge Ricardo S. Martinez ruled against ICE and accused the agency of lying to a federal court of law.
Following Trump's inauguration, one of his first orders of business was to crack down on immigration and increase deportation of illegal immigrants. According to Slate, ICE agents arrested Ramirez's undocumented father at his house in Seattle. The officials proceeded to arrest Ramirez as well, despite his statements that he was legally living in America with his DACA status. At the processing center where Ramirez was detained, he informed them, once again, that he was in the country legally and had a work permit, to which the agent responded, "It doesn't matter because you weren't born in this country."
According to Splinter News, Ramirez is the first known DACA recipient to be arrested and detained by ICE agents. The agents argued Ramirez's tattoo, which reads "La Paz BCS," looked similar to a gang tattoo. Yet according to the Splinter report, the tattoo is a reference to his birthplace of Baja California Sur and does not share any similarities with gang tattoos. Maybe what the ICE agents meant to say is, "he had a tattoo in a foreign language on dark skin and we racially profiled him." Per Slate, "Two different immigration judges found no indication that Ramirez was gang affiliated or a threat to public safety." Yet, the agents kept pushing and insisting that Ramirez had gang ties until the case was taken to federal court.
Despite ICE's racist efforts to deport Ramirez, Martinez ruled harshly against the deportation and called out the agents for their obvious racial profiling. The official statement reads: "These conclusory findings [that Ramirez was in a gang] have since been contradicted by experts and other evidence." Martinez not only ruled against ICE but showed marked disappointment toward their actions, and seemed completely offended by their racist insistence that Ramirez was affiliated with a gang. The statement continues:
Most troubling to the Court, is the continued assertion that Mr. Ramirez is gang-affiliated, despite providing no evidence specific to Mr. Ramirez to the Immigration Court in connection with his administrative proceedings, and offering no evidence to this Court to support its assertions four months later…For these reasons, the Court finds that Defendants' continued assertion that Plaintiff is a gang member or gang-affiliated is arbitrary and capricious and in violation of the APA.
Martinez's final ruling bars ICE from detaining, deporting or terminating Ramirez's DACA benefits. This case could be the first of many to come following Trump's strict immigration plan that racially profiles legal citizens and illegally detains them. From here on out, we can continue to expect racist actions against immigrants from government officials. Trump wants to "make America great again," but seems to have forgotten America is a country that was created by immigrants as a melting pot.