Rep. Ilhan Omar Introduces Bill to End School Lunch Debt Shaming
Photos by Chip Somodevilla/Getty, Alex Wong/Getty
Politics
News
Ilhan Omar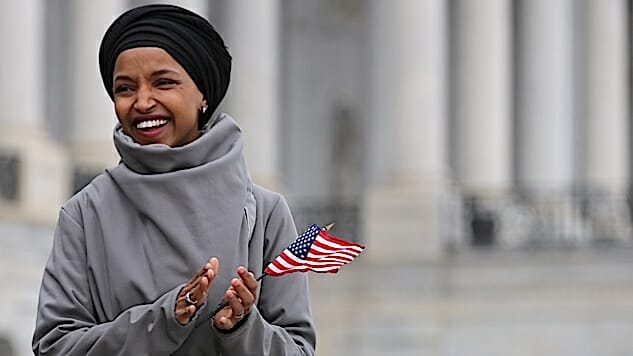 Minnesotan Rep. Ilhan Omar and Sen. Tina Smith have introduced a new bill that would end school lunch debt shaming.
The country is currently facing significant levels of lunch debt at public schools, and Omar said the bill would implement a system to eliminate practices that would highlight or punish students for their lunch debt. In return, schools would receive federal reimbursement for unpaid student meals for up to 90 days if they follow the certification process of the bill.
"Across this country, students whose families are struggling to afford school meals are being singled out and humiliated at lunchtime," Omar said Wednesday during a press conference, per CNN.
"Everyone knows you can't learn or perform well when you are hungry," Smith said in a statement issued to the outlet. "We need to support students in Minnesota and across the country by ensuring that kids are not humiliated because of an inability to pay for lunch."
Omar also took to Twitter to announce and explain the reasoning behind her proposed bill:
Today I am holding a press conference to introduce the No Shame at School Act. The bill will prohibit schools from shaming children that are unable to pay for their school lunch. https://t.co/ei1zCp0077

— Rep. Ilhan Omar (@Ilhan) June 19, 2019
The issue of school lunch debt is deeply personal to me. I myself felt the pangs of hunger as a child growing up in a refugee camp. My own experience helped inspire me to combat hunger.

Thank you to everyone who made the No Shame at School Act a reality. pic.twitter.com/3LY7J8DOV4

— Rep. Ilhan Omar (@Ilhan) June 19, 2019
Alongside the two Democrats at the press conference were Dem. Reps. Ben Ray Lujan and Deb Haaland of New Mexico, and Valerie Castile, mother of Philando Castile, were also there to show support for the bill. Omar commended Castile for her efforts to end hunger and relieve student debts in Minnesota.
Continuing at the press conference, Omar pointed out the systemic causes that make hunger crises like this possible in a flourishing economy, and criticized President Trump for his budgeting decisions that she said would worsen the hunger crisis.
"We are a nation of tremendous wealth. Hunger in this country is the result of policies that keep wages low and funnel wealth to the top," Omar said, per CNN. "It is the result of a political system that says it is OK to spend money on tax breaks for millionaires and the same companies who taint our economy, but we can't afford to fund meals for our kids in the streets."