Harvard Freshman From Palestine Deported Because His Friends Made Political Posts on Social Media
Photo courtesy of Getty
Politics
Features
Immigration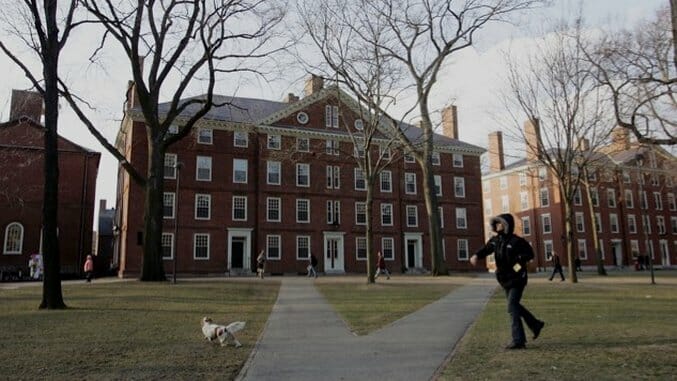 Ismail B. Ajjawi is a 17-year-old Palestinian from Tyre, Lebanon, and was supposed to be an incoming member of Harvard's freshman class. That changed, at least for the time being, when he met an overzealous immigration officer at Boston's Logan International Airport, as the Harvard Crimson reports:
Ajjawi wrote that he spent eight hours in Boston before he was required to leave. Upon arrival, Ajjawi faced questioning from immigration officials along with several other international students. While the other students were allowed to leave, Ajjawi alleges an immigration officer continued to question him about his religion and religious practices in Lebanon.
The same officer then asked him to unlock his phone and laptop, and left to search them for roughly five hours, Ajjawi alleges. After the search, the officer questioned him about his friends' social media activity.
"When I asked every time to have my phone back so I could tell them about the situation, the officer refused and told me to sit back in [my] position and not move at all," he wrote. "After the 5 hours ended, she called me into a room , and she started screaming at me. She said that she found people posting political points of view that oppose the US on my friend[s] list."
Ajjawi's very reasonable argument that he shouldn't be responsible for his friend's posts—Ajjawi himself hadn't made a single political post—fell on deaf ears, and officers canceled his visa and told him he would be deported.
All the State Department would tell the Crimson is that Ajjawi was "inadmissible." Harvard is fighting to help Ajjawi—who has since returned to Lebanon—to resolve the issue and return to school for first classes on Sept. 3, and Ajjawi says he is working with his own lawyers.
Sadly, he's not the first to face this situation:
Though Ajjawi's situation is rare among Harvard undergraduates, in 2017 four graduate students faced similar challenges due to a then-effective travel ban instituted by the Trump Administration. Those students eventually entered the U.S. after weeks and months in limbo, and the University warned international students not to leave the country.
If the standards of immigration officers like those at Logan International have become so stringent and punitive, he will surely not be the last.