India Investing More in Solar Power Than Coal for First Time
Photo by Allison Joyce/Getty
Politics
News
India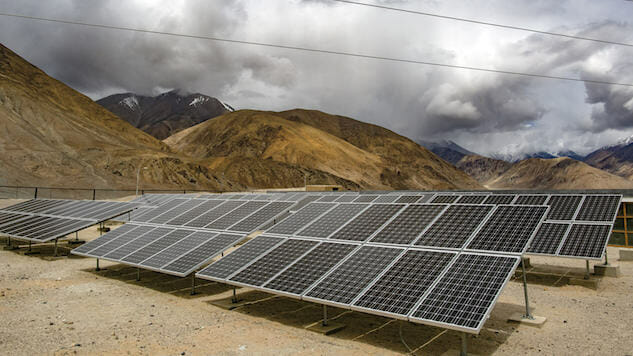 Rays of hope: For the first time ever, India is investing more money in solar power than fossil fuels, according to a new International Energy Agency report.
In 2014, a whopping 73.6% of India's electricity came from fossil fuels, especially coal, according to the World Bank. But now India, the third-largest greenhouse gas contributor after the U.S. and China, is tipping the scale in a new direction.
For the past three years, India has invested more in renewable energy than fossil fuels. Solar energy investments overtook coal for the first time last year.
The IEA reports that India's shift to renewable has been driven by policy changes and dropping costs of solar power.
Compared to the U.S., energy demands in India are pretty small per capita. Each person in India uses a tenth of the energy of a U.S. citizen, but that is rapidly changing. BP's 2019 Energy Outlook report estimates India's energy demands could double by 2040.
But the IEA expects India's coal-fired power will drop from 74% today to 57% in 2040 because of current investments. With more aggressive policies, the IEA hopes India can drop coal use to 7% by 2040.
In its Paris Climate Agreement obligations, India pledged 175 gigawatts of renewable energy by 2022. They have already installed more than 77 gigawatts, doubling their renewables capacity from four years ago. India also plans on 60 gigawatts more in the next year. It seems like India is making good on its Paris Climate Agreement promises, even while President Donald Trump pulled the U.S. out of the agreement in 2017.
But despite any hope India's turning tides may offer, the IEA has warned that much more work is needed to offset rapid climate change. And even though India has invested more in renewables than coal this year, coal remains the country's largest power source. We're not there yet.
See Paste's breakdown of India's energy sources below.