A Growing Number of Americans Are Living Paycheck to Paycheck to Make Ends Meet
Image by Shutterstock
Politics
News
Inflation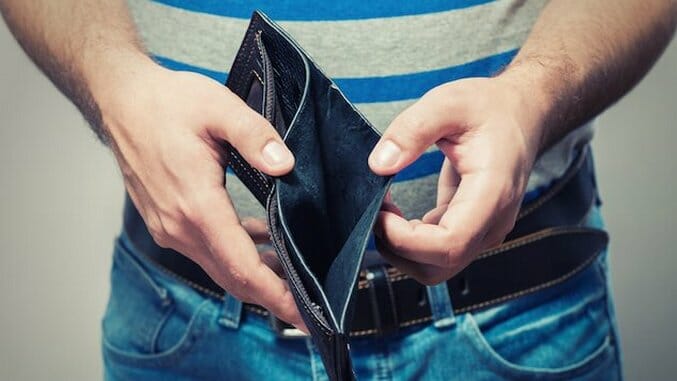 According to a new survey by CareerBuilder, 78 percent of Americans now live paycheck to paycheck. This may come as a surprise, given that the number of new jobs is surging and unemployment rates are the lowest they've been in 16 years, but Mike Erwin, a CareerBuilder spokesman, says that wages for these jobs haven't increased enough to keep up with rising expenses for Americans.
"Jobs have come back, but we haven't seen salaries rebound," he said. "Right now we are in a time when the cost of living is way outpacing the amount of money that people are getting through raises." This is reflected in the average income for American families, which is still 2.4 percent less than it was in 1999, some 18 years ago.
In the survey conducted by Harris Poll, CareerBuilder found that roughly half of employed Americans who earn less than $50,000 per year are living paycheck-to-paycheck all the time. "Living paycheck to paycheck is the new way of life for U.S. workers," he said. "It's not just one salary range. It's pretty much across the board, and it's trending in the wrong direction." The trend is noticeable: 78 percent is a substantial increase over 75 percent, which is the percent of Americans who said they were living payday to payday just last year.
And that's not all. From CBS:
Aside from the insecurity of living without a financial cushion, the phenomenon has another downside: It hampers Americans' ability to save for retirement, CareerBuilder noted. About 18 percent of workers said they cut back on their 401k contributions or personal savings in the last year, and more than one-third don't put away money for retirement, the survey found.
Although it seems like everyone is talking about the resurgence of the job market, this could point to some economic instability lurking beneath that glossy surface. The survey, which polled nearly 6,000 people, including 3,500 employees, shows just how many people are scrambling just to survive. With 122 million full-time workers (as reported by the Bureau of Labor and Statistics), this means that approximately 95 million people are living paycheck to paycheck.