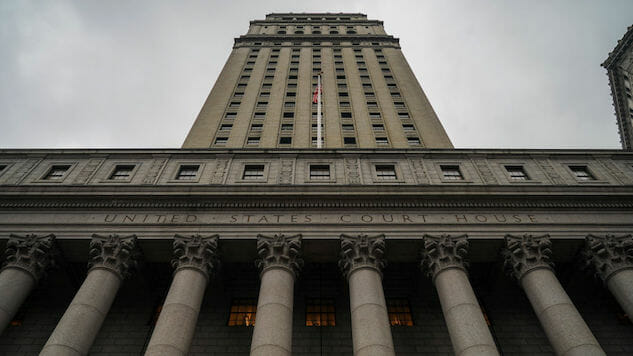 A New York Federal Appeals Court panel hinted that they may move to unseal confidential court records that may reveal evidence of an underage sex trafficking operation run by billionaire pedophile Jeffrey Epstein and his partner, British socialite Ghislaine Maxwell.
The thousands of documents that stand to be unsealed were collected in 2015, after a woman named Virginia Guiffre sued Maxwell, claiming she was recruited by Maxwell at age 16 to become a "masseuse" for Epstein. Giuffre, who met Maxwell while working at Donald Trump's Mar-A-Lago Resort, claims that she and other underage girls were sexually abused and pimped out to other rich, influential people from 1999 to 2002.
In the court hearing on Wednesday, Maxwell's lawyer Ty Gee attempted to argue that the files should remain sealed, as they could reveal sensitive information "about consensual sex with adults" regarding elite associates of Epstein. When Gee told Judge Jose Cabranes that he didn't think there was anything important in those files, Cabranes responded, "You can't possibly be serious?"
Oral arguments are scheduled in NY federal court today on the Miami Herald's effort to unseal documents in a case involving accused sex trafficker Jeffrey Epstein. The appeal is being supported by 32 media organizations, including @nytimes@washingtonpost@AP@revealpic.twitter.com/G9nYX9RT6y

— julie k. brown (@jkbjournalist) March 6, 2019
The Epstein case has long turned stomachs of in-the-know news readers who have watched the case upended at every turn since the billionaire's inconsequential sentencing for pedophilia in 2008. However, due to some fantastic work by Julie Brown and other investigative reporters at the Miami Herald, big steps have been taken to expose collaborative individuals, such as Alex Acosta, the U.S. attorney for South Florida who illegally settled an insane deal for Epstein that would grant him and any potential "unnamed co-conspirators" immunity from all federal criminal charges. Acosta is now Donald Trump's Secretary of Labor.
Some of Epstein's high-profile friends include Bill Clinton, Prince Andrew, Kevin Spacey, Woody Allen and others who have taken rides on his private jet—dubbed the "Lolita Express"—to Epstein's 72-acre private island in the U.S. Virgin Islands. President Trump, of course, also has a long-standing relationship with Epstein as well, saying in 2002, "I've known Jeff for 15 years. Terrific guy. He's a lot of fun to be with. It is even said that he likes beautiful women as much as I do, and many of them are on the younger side." A woman using the pseudonym Katie Johnson dropped her suit days before the 2016 election in which she alleged that Trump raped her at one of Epstein's parties when she was 13 years old.
The Justice Department's Office of Professional Responsibility is also currently reviewing how they handled their own investigation of claims against Epstein that resulted in such weak, wrist-slap prosecution that the billionaire was allowed private trips to his private island while in prison.
Clearly, the Epstein investigation is reaching a pivotal moment. Many weary reporters and citizen journalists that have followed the bizarrely quieted case for years are crossing their fingers. If these documents receive the "broad unsealing" that Guiffre's lawyer Paul Casselle says they deserve, we can prepare to see some explosive questions raised in their wake about the most highly suspect elites.