GOP Rep. Jim Jordan Allegedly Turned a Blind Eye to Sexual Abuse at Ohio State
Photo by Chip Somodevilla/Getty
Politics
Features
Jim Jordan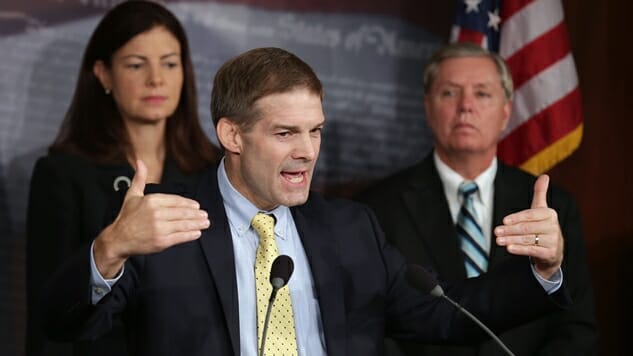 In 2011, Jerry Sandusky became a household name as his sexual crimes against countless children over decades while coaching Penn State football came to light. They were so devastating that they took down a living legend, Penn State Head Coach Joe Paterno. Michigan State was recently found to be complicit in the Larry Nassar sexual abuse scandal that ensnared USA Gymnastics, and the school settled for $500 million with over 300 women and girls who alleged that Nassar had abused them on the university's watch.
Amateur and child athletic programs have serious problems with sexual predators. I grew up playing sports and I can promise you that nearly everyone has a story or anecdote about a certain doctor or coach (or parent) you didn't want to be around (and that's just my experience playing sports with boys). This is very much a national crisis, but unlike many others that we choose to ignore, both our cultural and legal infrastructure have demonstrated that they are 100% not OK with this kind of crime against humanity. Larry Nassar will die in prison. So will Jerry Sandusky. Joe Paterno had to step down, and overnight, lost the legacy of one of the greatest coaching careers in the history of sports, now broadly known as someone who helped to conceal sexual child abuse by an assistant.
We may add another Big 10 school to that list, as Ohio State recently announced they were investigating their own potential sexual abuse scandal, which was revealed today to possibly implicate Republican Congressman Jim Jordan. Per NBC:
Rep. Jim Jordan, the powerful Republican congressman from Ohio, is being accused by former wrestlers he coached more than two decades ago at Ohio State University of failing to stop the team doctor from molesting them and other students.
The university announced in April that it was investigating accusations that Dr. Richard Strauss, who died in 2005, abused team members when he was the team doctor from the mid-1970s to late 1990s.
Jordan, who was assistant wrestling coach at the university from 1986 to 1994, has repeatedly said he knew nothing of the abuse until former students began speaking out this spring, and continued to deny it on Tuesday. His denials, however, have been met with skepticism and anger from some former members of the wrestling team.
Three of the wrestlers told NBC that everyone knew that Strauss showered with the team, and touched them inappropriately while he examined them. They alleged that it would be "impossible" for Jordan not to have known. One of NBC's sources said he spoke to Jordan about it. The report is filled with on-the-record quotes from men on the wrestling team, and they paint a pretty ugly picture for the Republican Congressman. Here is one example:
"For God's sake, Strauss's locker was right next to Jordan's and Jordan even said he'd kill him if he tried anything with him," [Dunyasha] Yetts said.
Jordan's office denied the allegations, telling NBC News "Congressman Jordan never saw any abuse, never heard about any abuse, and never had any abuse reported to him during his time as a coach at Ohio State."
Jim Jordan has been rumored as a potential replacement for Paul Ryan as Speaker of the House. That would make him the third in line for the presidency. These are serious allegations with serious repercussions not just for Jim Jordan, but our government as a whole. He is a power player in the intransigent Freedom Caucus—a group of around 30 representatives who have basically taken the House hostage, beginning with demanding John Boehner's resignation in 2015.
It must be repeated that these are just allegations at this point—albeit incredibly serious and seemingly credible—as Ohio State said in a statement to NBC: "To date, [law firm] Perkins Coie has interviewed more than 150 former students and witnesses and is engaged in further investigative efforts. Ohio State has shared all additional information that has come to the attention of the university with the independent investigators whose work is ongoing."
Jacob Weindling is a staff writer for Paste politics. Follow him on Twitter at @Jakeweindling.