John Bolton Convened an "Unusual" Meeting With CIA to Discuss Iran, and Yes, That Should Scare You
Photo courtesy of Getty
Politics
News
John Bolton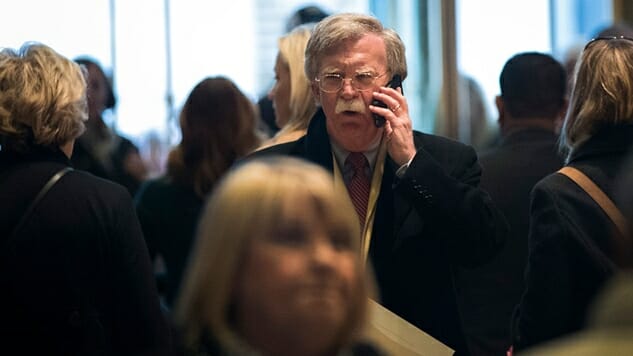 From NBC News:
In a highly unusual move, National Security Adviser John Bolton convened a meeting at CIA headquarters last week with the Trump administration's top intelligence, diplomatic and military advisers to discuss Iran, according to six current U.S. officials.
The meeting was held at 7:00 a.m. on Monday, April 29, and included CIA Director Gina Haspel, Acting Defense Secretary Patrick Shanahan, Chairman of the Joint Chiefs of Staff General Joe Dunford, Secretary of State Mike Pompeo, and Director of National Intelligence Dan Coats, five of the officials said.
We don't know exactly what was discussed, but we do know that most national security meetings are held at the White House, and that past meetings at CIA headquarters were held to go over "highly sensitive covert actions" or to plan for upcoming ones.
As Paste covered last year, war is John Bolton's entire modus operandi, and he has written op-eds in just the last four years advocating for offensive actions against both Iran and North Korea. At the time, Jake Weindling wrote that, "Bolton is obsessed with Iran and will seemingly stop at nothing to quench his bloodthirsty lust." And not long after the April 29 meeting at the CIA, Bolton announced that we were sending a bomber squadron to the Persian Gulf and brayed about using "unrelenting force" against Iran (in retaliation for a hypothetical attack). Meanwhile, U.S. sanctions, the latest of which were announced this week, are undoubtedly hurting Iran, making war—or some war-like action—even more likely.
Quotes from Democrat Senators paint a clear picture of what's happening:
"I'm deeply worried that the Trump administration is leading us toward an unnecessary war with Iran," Sen. Tim Kaine of Virginia, a member of the Senate Armed Services Committee, said on Tuesday.
"Trump's Iran strategy is blind escalation," said Sen. Chris Murphy of Connecticut, who sits on the Senate Foreign Relations Committee. "There is no endgame. No overriding strategy. No way out. It's just escalation for the sake of escalation."
They can read which way the wind blows as well as anyone else, and it's beyond dangerous that someone like Bolton—who pushed the Iraq War from the beginning and is unapologetic about the ensuing disaster, and who continues to antagonize for regime change all over the world—now serves as Trump's National Security Advisor. At this point, it'll be a miracle if we don't go to war.